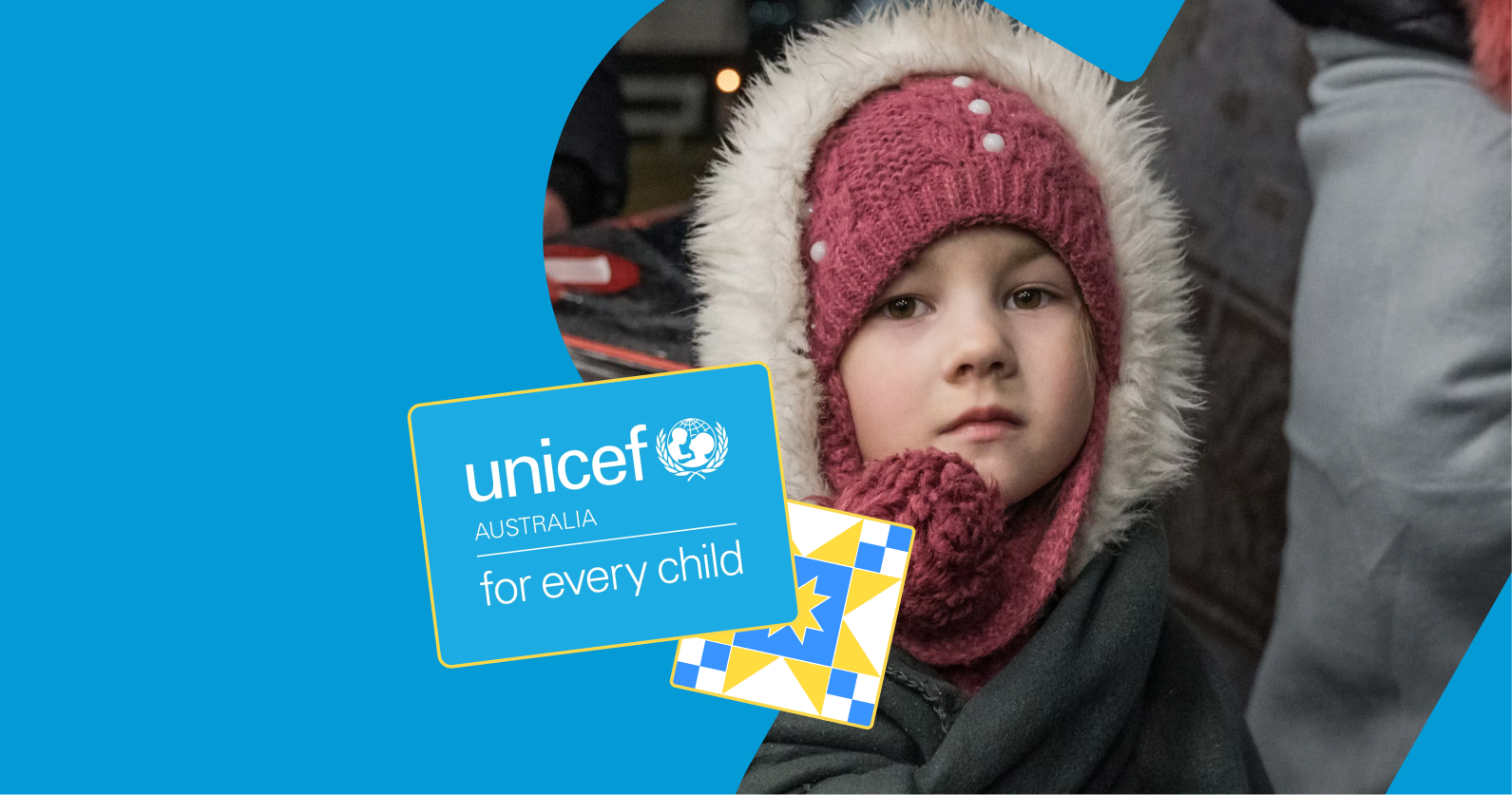 The power of one fundraiser who rallied a community of quilters to raise funds for UNICEF Australia to support those impacted by the Ukraine crisis.
On 24 February 2022, Russia invaded Ukraine in a major escalation of the Russo-Ukrainian War that began in 2014. The invasion caused Europe's fastest-growing refugee crisis since World War II. The UN estimates that 12 million people inside Ukraine have needed relief and protection, while more than 4 million Ukrainian refugees have sought protection and assistance in neighbouring countries.

More than half of Ukraine's children have been displaced since the war began and families have become separated. Already, more than 262 children have been confirmed killed and 415 injured since the start of the war. The true toll is likely far higher.

As well as loss of life, the conflict is causing devastating consequences for children's access to basic services. There are reports of 100 attacks on health care facilities, and damage to more than 870 education facilities. It is estimated that 5.2 million children are in need of humanitarian assistance and nearly two out of every three children have been displaced by the fighting.

The world has responded to the crisis with shock, terror and a desire to do something. We've all felt overwhelmed with uncertainty as we've watched the tragedy unfold from the sidelines. Charities across the world have been raising much needed funds for the escalating humanitarian needs of Ukrainians who have fled across borders.

One person who has responded to the crisis is Pat Sloan, a seasoned fabric designer, author, and radio/podcast host in Fairfax County, Virginia. Like the rest of the world, Pat was "horrified, devastated, worried, sad, scared and angry for the people of Ukraine, so she used her 20 year love of quilting to help.

She saw a message from Maria Nelga, President of the Ukrainian Cultures Association, asking for prayers right when the invasion started. As the President of the Ukrainian Quilters Guild with two stores in Ukraine and Poland, this spoke to Pat's heart and she couldn't just sit anymore and watch.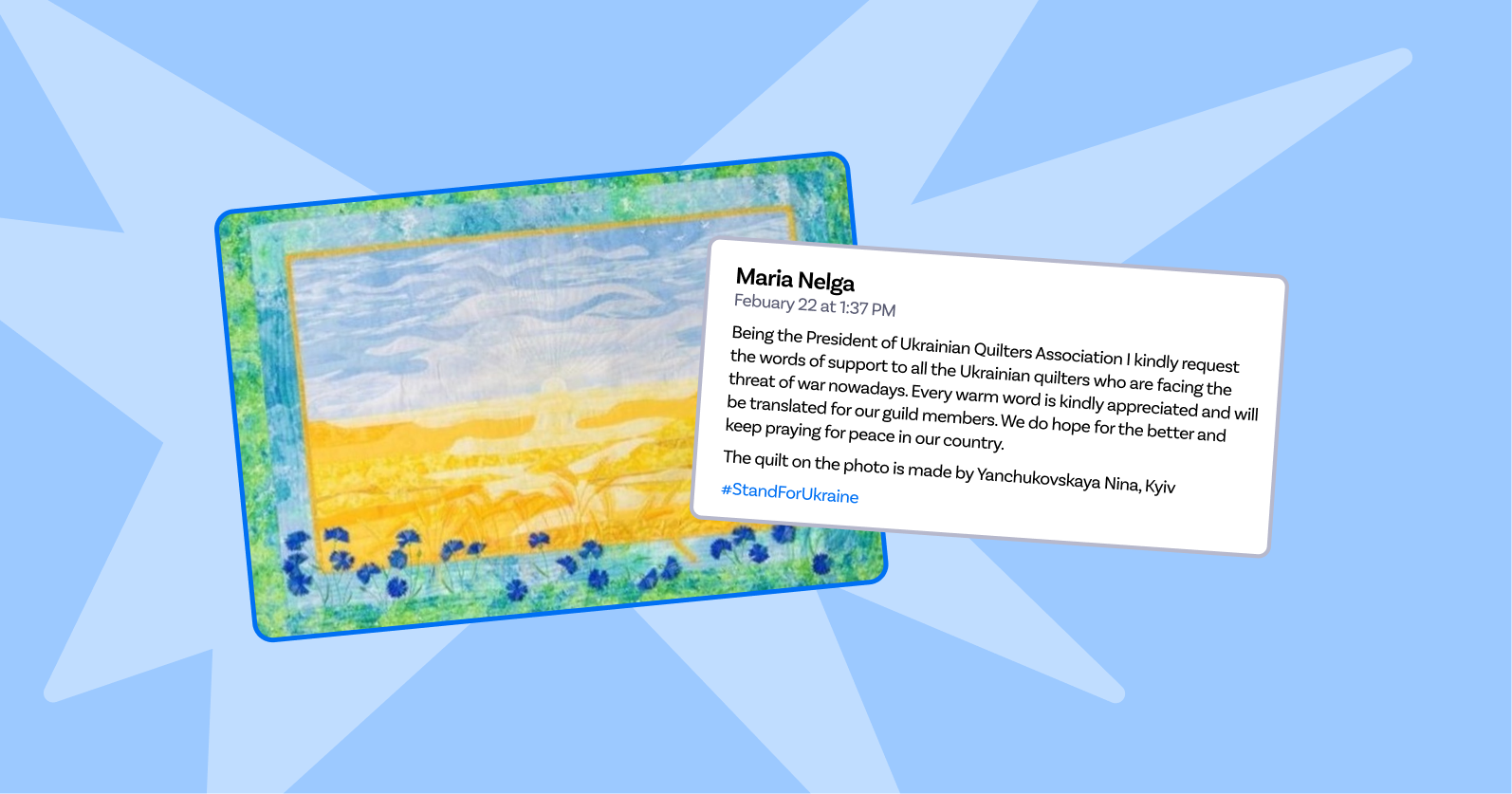 Pat wanted to provide a way for fellow quilters to help so she created a star pattern in the blue 💙and yellow 💛 of the Ukraine flag as a sign of strength. Her hope was that quilters worldwide would use the pattern as a show of support, but more importantly that they would donate funds to support children and their families in Ukraine.

She decided to fundraise with UNICEF Australia as the funds directly support children in the Ukraine. Since the outbreak, UNICEF has provided healthcare to 3.2 million people, access to safe drinking water for 2.5 million and psychosocial support to 1.1 million children and caregivers.
Pat signed up to UNICEF Australia's Ukraine campaign and created her own fundraising profile page. She originally had a goal to raise $5k, but after receiving incredible support from the quilting community she has now raised over $235k from nearly 5,000 donors. She has since set a new goal of $275k.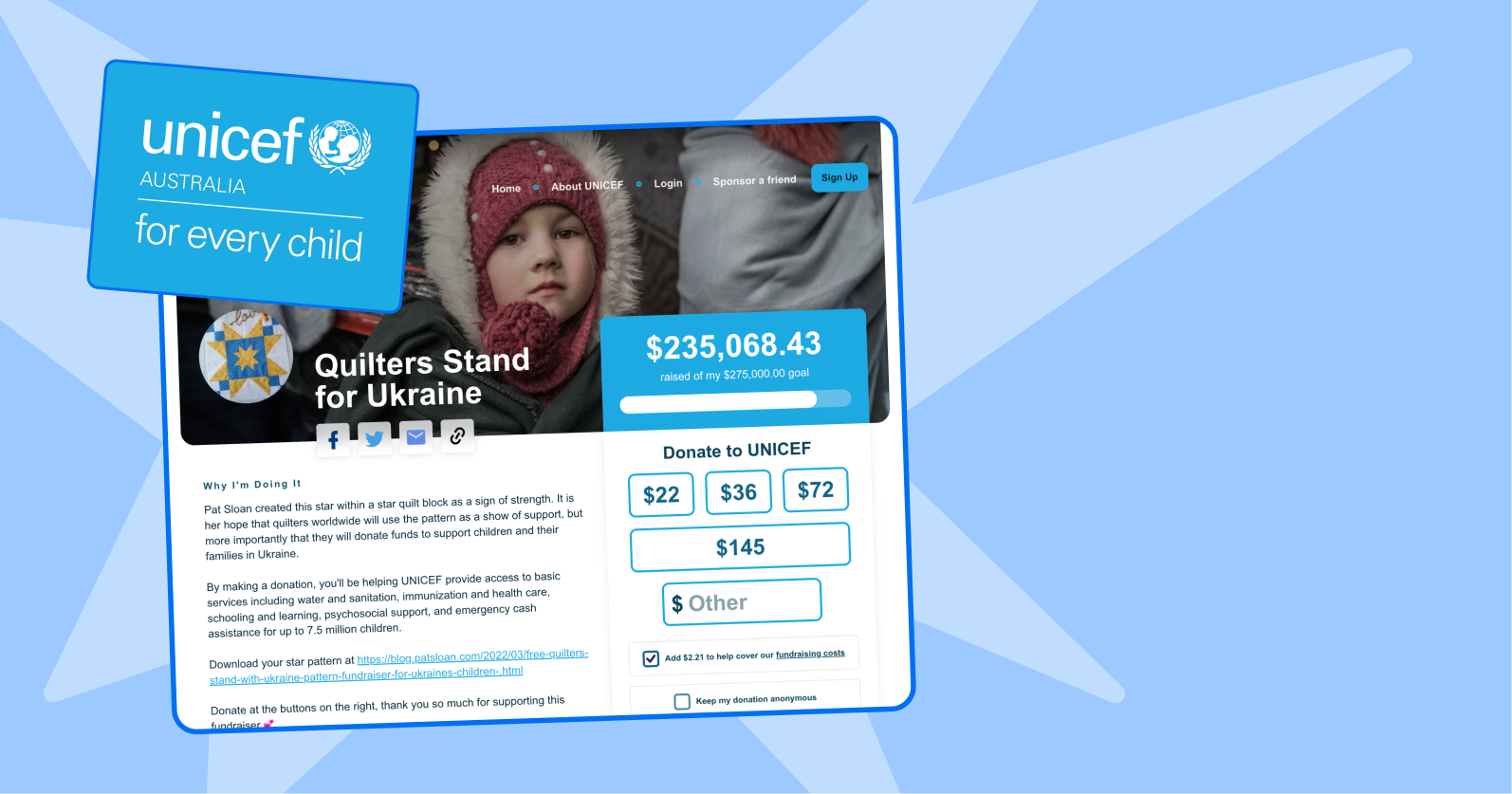 "I know the best way to help Ukraine is to send money to support them. There are so many efforts available. Working with my friends at Aurifil thread, we came up with UNICEF. They had the ability for us to create a landing page for all countries to use where the funds we give go JUST to supporting the Ukrainian Children."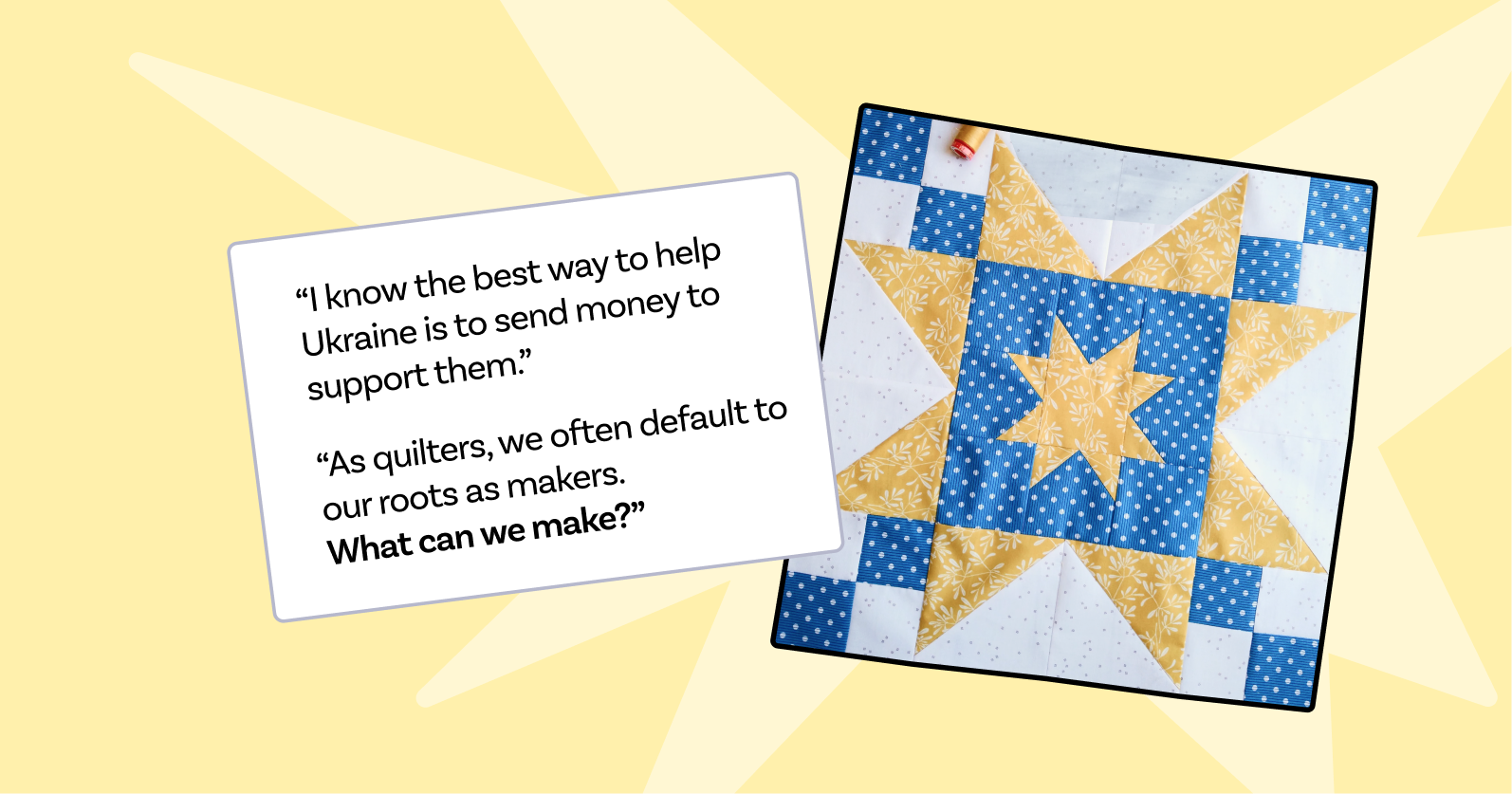 The folks at Aurifil thread also shared, "There are entire communities in need of support, protection, safety, food, shelter, compassion… As quilters, we often default to our roots as makers… what can we make? How can our skills be used for good? While the people of Ukraine don't need our quilts, they do need humanitarian support and we're able to offer that in different ways. Makers are taking action by creating blocks to share, requesting donations to organisations who are able to provide immediate support."

People in over 21 countries got involved making #QuiltersStandForUkraine star blocks.
The Patchwork Association of Argentina sewed star blocks, shop owner Kendall Taylor in Melbourne Australia created his star and it hangs on his front door, and A&A white Sewing in Holiday Florida hosted a Zoom lesson on making the quilt. Pat continued to share her journey on social media, creating a community group on Facebook, uploading how-to videos on her YouTube channel and posting regular updates with resources on her blog.

The team at UNICEF were equally in awe (like the rest of us) of the incredible community of quilters across the globe and their generosity.
Jennifer Trigg, Fundraising Specialist said, "We are so thankful to Pat and the global quilting community for supporting our emergency response in Ukraine. Quilters Stand for Ukraine is such a special campaign and it's been a real joy to see their fundraising go up each day and to read all of the lovely comments from quilters across the world who are taking part in the initiative."

UNICEF Australia has raised over $1.5 million for its Ukraine campaign on Raisely, in order to deliver life-saving supplies to support the needs of over 2.2 million people. Quilter's Stand for Ukraine is listed as number two of their top fundraisers.

If you are inspired by this story too, you can download Pat's free block and quilt pattern here. She encourages all to share it on social media to show your support of the Ukrainian people.
By making a donation, you'll be helping UNICEF provide access to basic services including water and sanitation, immunisation and health care, schooling and learning, psychosocial support, and emergency cash assistance for up to 7.5 million children.
If you're not a quilter, you can also support these charities standing with Ukraine, including UNOCHA, UNHCR and Emergency Action Alliance.
Ready to create your
next campaign?