Budgeting isn't necessarily the fun part of nonprofit work, but it is important. A nonprofit budget template can set you up for success.
What kind of impact would your organisation make if you always had more than enough funding? How would it change your day-to-day operations?
While it doesn't hurt to dream, unfortunately we also have to be realistic. A detailed annual budget is the tool that'll help you grow your nonprofit and get the funding you need each year.
Your budget is a critical part of the business plan that maps out how each part of your organisation fits into the whole, like a machine. As your nonprofit organisation grows and you develop new programs, that machine will need to change — and so will your budget.
The annual budgeting process happens toward the end of your fiscal year, but believe us when we say you'll want to keep tabs on it frequently.
Several different staff members within your nonprofit and external partners will need to refer to your annual nonprofit budget for different reasons, so it's important to save this document in a central location and keep it updated.
Every organisation's budget is different, but this article breaks down the most essential line items you may need. We've even included a free nonprofit budget template to help get you started.
Why your nonprofit needs a budget
We don't have to like it, but money does make the world go 'round. Your budget ultimately helps you secure the funds you need and use them in the most efficient way.
The budget will help you make decisions about programming and set goals for fundraising and grant proposals. Think of it as a roadmap for good financial management within a single year.
Maybe you'll want to align your budget with the calendar year starting in January, or with your fiscal year, depending on things like grant cycles, tax planning, and annual audit dates. Either way, with a growing nonprofit organisation, the goal isn't necessarily to create a budget that balances perfectly. With key goals of long-term sustainability, high impact, and growth, it's okay to end up with a surplus or deficit.
Your budget also gives stakeholders such as grantmakers, sponsors, bankers, and other financial partners a snapshot of where your funds are going. It lets them peek behind the curtain a bit to understand the scale of your operations, and shows you have a specific plan for each dollar that will result in clear, sustainable outcomes.
When outside partners ask to see your budget, it's okay to send them a PDF copy from the previous year instead of the working document you use with your staff.
Who manages your nonprofit budget?
It's usually up to the staff to create the budget, and it may be your executive director or finance director's responsibility to coordinate the budgeting process.
They should collaborate with other roles to figure out realistic expectations for major income sources and create program budgets. Advisory board members or a finance committee will review the budget annually, suggest changes, and finally approve it. Phew!
Directors, coordinators, grant writers, fundraisers, and other staff will refer to the budget as they go about their work. Because the reality of your nonprofit's income and expenditures won't be an exact match with your budget plan, you'll need to review your financial activity often.
It's common for finance committees to amend a budget several times throughout the year. As you start to review monthly reports, cash flow projection will be the next step to help you stay on track.
How to organise your nonprofit budget
Before you dig into the numbers, the first step to create a nonprofit operating budget is by prioritising what kinds of programs and services are mission-critical.
Next, outline the revenue sources you can rely on to fund your activities. Open a blank spreadsheet or use our free nonprofit budget template and start organising line items into two main sections for income and expenses.
You may decide to add categories such as marketing, programs, administrative costs, facilities, and more. The columns will list estimated amounts for each month or quarter and yearly totals.
Here's a quick summary of the different line items in our nonprofit budget template:
Revenue
Revenue includes all income sources that keep your nonprofit organisation going strong.
💸 Grants
These are awards from foundations or government organisations that might be restricted to specific uses. Your organisation may need to submit proof to these funders that you're using grant money appropriately.
📝 Contracts
If you provide services through government programs or other affiliates, your contract should outline how much income you'll receive for each project or offering.
📈 Fundraising
Most nonprofit organisations raise some of their yearly income through fundraising methods such as direct appeals, peer-to-peer campaigns, or crowdfunding.
📅 Events
Fundraising events like an annual gala or giving days can make up a big portion of your nonprofit's revenue.
💁🏽‍♀️ Members or Monthly Giving
A membership program or regular giving option creates a consistent stream of income from your donor base.
🏷 Sales of Products or Services
Some nonprofit organisations generate income by selling products or services. Depending on your organisation's mission, your staff, volunteers, or program participants might lend a helping hand to provide these products or services.
Expenses
Expenses are all of the ways your organisation spends money. Don't forget that startup fees can make a big difference in addition to regular operating expenses for the first year or two that your organisation is up and running.
👨🏼‍💼 Personnel
Staff salary, training, benefits, employee taxes, and volunteer appreciation are all expenses related to personnel.
🏢 Facilities
Even if you don't have a building, you likely have some costs related to your workspace. These might include rent, utilities, maintenance, and parking for your office or event venues.
⌨️ Administrative Expenses
What are the basic business tools your organisation needs to function? Office supplies, printed marketing materials, and swag might fall under administrative expenses, along with technology such as a payment processor, credit transaction fees, scheduling, or accounting software.
🧾 Program Expenses
Every organisation has program expenses, but they look very different depending on what your organisation does. For example, an arts nonprofit might have a program budget that includes art supplies or musical instruments. Program budgets at an environmental nonprofit could include cleaning supplies, trash bags, and equipment rentals.
📣 Marketing and Fundraising Expenses
How does your organisation get the word out about what you do? The marketing and fundraising category may include campaign expenses, website fees, marketing tools and software, ads on social media and in traditional outlets, conference and travel expenses, and grant writing if it isn't covered under personnel.
Guidelines for Estimating Nonprofit Budget Items
If you're an established nonprofit, review past financial records to see how much you've spent on specific budget items. Better yet, if you have access to a reporting suite like Raisely's, you can slice and dice your data to look at income from specific time periods or campaigns.
But if you're still in the startup phase, estimating realistic dollar amounts might take some research. One tip: Look at annual reports from similar organisations to see what kinds of revenue and expenses they're working with.
Instead of going for a perfect balance, match your fundraising goals with impact goals. What can you accomplish with the money, volunteers, and other resources you already have? How much would you like to accomplish, and how can you get the additional funds you need?
Think about what you can realistically do and set stretch goals in case things go better than expected. What will you do with any extra funds that come in?
Remember, each quarter and each month might look very different — that's normal! The month of your annual gala may bring in a lot of income, so it's okay if other months bring in less. It might be helpful to think ahead to what the first quarter of the following year will look like.
---
Get started with a nonprofit budget template
We created this simple nonprofit budget template so you can start plugging in your numbers and planning your budget. Feel free to change up the categories to fit your organisation better. You can also start from scratch with a fresh Excel spreadsheet to create your own customised template. You're well on your way to keeping your nonprofit in good financial health!
Do you have the data you need from past online fundraisers? Join Raisely for free to create online campaigns and market them, accept payments, and create detailed reports all in one place.
Ready to create your
next campaign?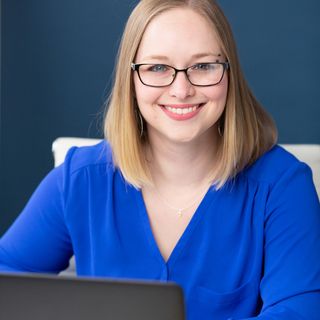 Kelsey Hoff is a content marketing specialist, freelance writer, blogger, and poet. She creates emotionally intelligent content that "listens first" for effective, ethical thought leadership.