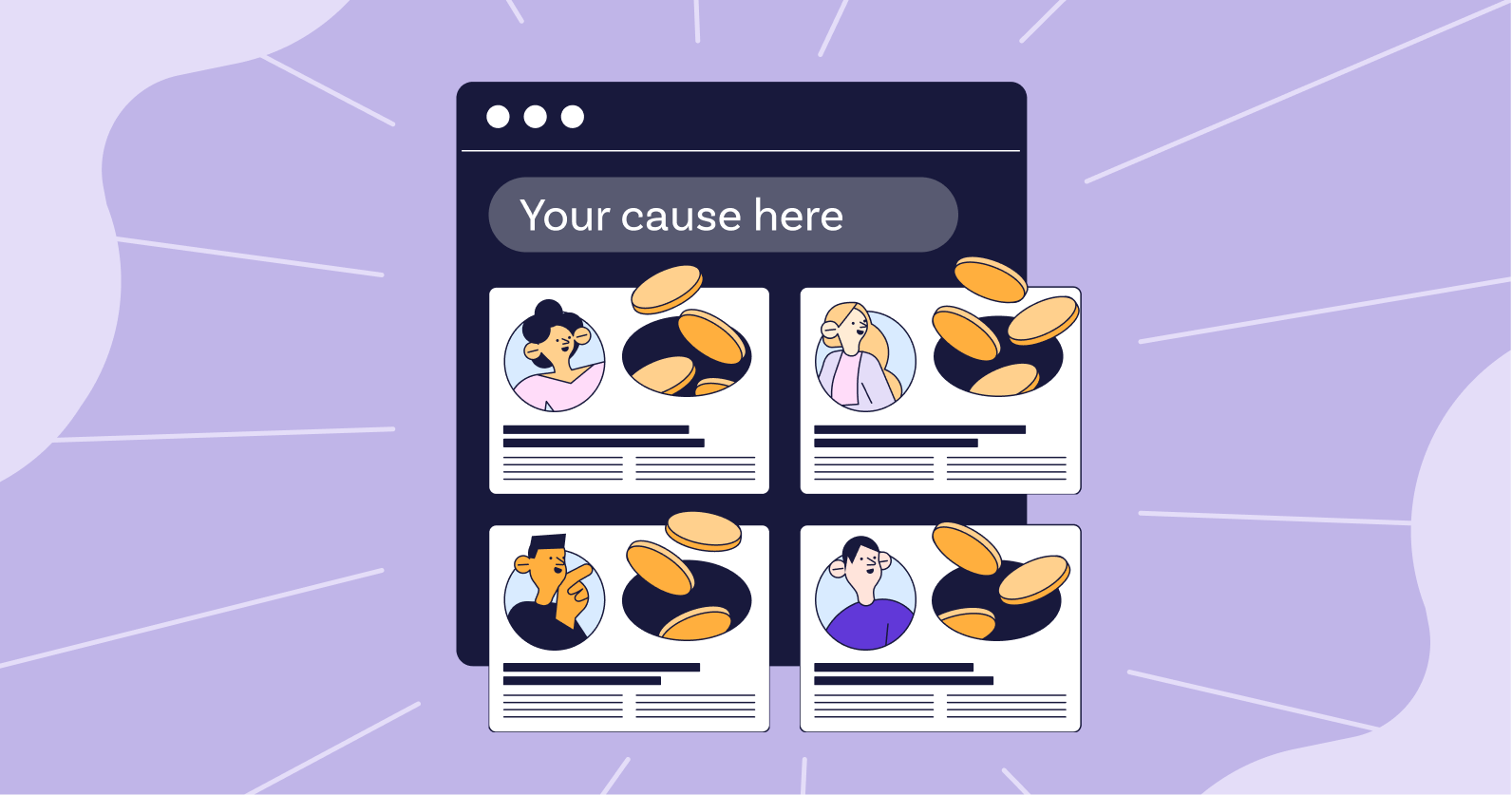 Fundraising
Peer-to-peer fundraising made simple: Your ultimate guide for 2023
Peer-to-peer fundraising campaigns are essential to the success of nonprofits and charities important. Plan yours today with this how to guide!
Have you ever heard from a member of your nonprofit organisation's community about what your mission means to them and thought, "I couldn't have said it better myself?"
Social proof is an incredibly valuable fundraising tool, and it's one of the main ingredients that makes peer-to-peer fundraising one the most effective fundraising strategies today. With this fundraising method, your biggest supporters share their personal connection with your organisation and inspire their friends and family to donate.
Until recently, the software needed to create impressive campaign pages and automated messages has been too complicated for most small organisations — and not exactly budget-friendly. Raisely is one of the relatively new tech tools making digital-first peer-to-peer campaigns possible for small nonprofits. Best of all, it's free to use!
Since 2020, online giving has been steadily increasing. Now that people are more comfortable doing everyday things like shopping, paying bills, finding entertainment, and connecting with loved ones online, peer-to-peer fundraising is taking social media by storm.
Here's what we'll cover in this article:
The main points of peer-to-peer fundraising
Why it has become a go-to strategy in the last few years
Insights on how to make this strategy work for your organisation
Raisely features that make setting up and managing a peer-to-peer campaign a breeze
Now, on to the good stuff!
What Is Peer-to-Peer Fundraising?
P2P fundraising, or peer-to-peer fundraising, is a strategy where you recruit individual fundraisers from your community to collect donations on your organisation's behalf.
Also known as social fundraising or community fundraising, it's a flexible format that allows people to get directly involved with causes they support. As your community of fundraisers share their passion for your cause with their friends and family, they grow your nonprofit's community and your donor base for you. Your main job as the organiser is engaging, supporting, and celebrating your fundraisers as they work toward their individual fundraising goals.
Technically, peer-to-peer fundraising has been around for a long time. Nonprofits like the Girl Scouts of America have been deputising their members as volunteer fundraisers for decades. Who can resist buying a box of cookies from a cute kid? But instead of carrying around bulky order forms and collecting cash and checks in an envelope, your supporters can now raise an unlimited amount of money through secure digital donation forms.
Since platforms like Raisely have made it possible to collect funds and spread the word about your campaign online, peer-to-peer fundraising has become one of the most popular and effective strategies out there.
Why Peer-to-Peer Fundraising Works
As we mentioned before, it's been clear the last couple of years that people all over the world are eager to get involved and directly raise funds for their favourite causes. Case in point? In 2021, over $154 million was raised for U.S. nonprofit organisations through digital-first peer-to-peer fundraising platforms — that's a 30% increase over 2020!
While $50 is still the most common donation for organisations that use Raisely, average gifts to peer-to-peer campaigns are growing — and they're even higher than appeals. The virtual aspect of peer-to-peer fundraising makes it a reliable yet flexible approach during times when in-person fundraising events aren't always possible.
Another reason why peer-to-peer fundraising is so effective is the personal connections your growing community will make with your nonprofit and the organic conversations they'll have with each other.
Instead of learning about your mission from a representative, a fundraising letter, or your website, they get a personal introduction from someone they know, like, and trust. Typical crowdfunding campaigns and team fundraising efforts aren't as useful for branching outside your network to build strong connections with new donors.
Finally, the P2P format is a great way to foster a little friendly competition between fundraisers. Volunteers track their progress using personal fundraising pages, and the Raisely platform has plenty of gamification features you can use to motivate your fundraisers. Customised achievement badges, progress bars, leaderboards, and our Strava integration for active events all make great ways to turn your campaign into a challenge.
Peer-to-Peer Fundraising Ideas
Can you see your community coming together to share their passion for your cause and raising money for your organisation? That's the spirit! The next step is to brainstorm peer-to-peer fundraising ideas that align with your supporters' interests or the stories that connect them to your nonprofit organisation.
You can organise your campaign around specific events and fundraising methods or make room for your volunteer fundraisers to get as creative as they want.
Let's explore some popular types of peer-to-peer fundraising campaigns that have seen major success on Raisely:
1. DIY Campaigns
You can reap all the benefits of online fundraising without putting restrictions on your fundraisers or spending a lot of time and money on creating an elaborate theme. With a basic DIY campaign like UNICEF Australia's Ukraine P2P campaign, an unlimited number of volunteers can sign up to create their own mini-fundraisers.
Most people will run a simple social media campaign to ask their social network for donations, but some might use their unique talents to go above and beyond.
For instance, one participant in UNICEF Australia's Ukraine campaign designed a quilt square featuring a blue and yellow star to symbolise strength and Ukraine's national colours. Pat Sloan started with a modest goal of $5,000, but now that she's raised over $238,000, she's stretched her goal to $275,000.
2. Ambassador Campaigns
In this twist on peer-to-peer fundraising, a small group of star fundraisers competes to see who can get the most donations. Ambassador campaigns are most effective if you can work with a team of local celebrities or public figures who have their own following. You might ask your ambassadors to raise money before facing off in a live event, like a slam dunk contest, or post entertaining videos on social media to raise donations.
3. Challenges
Challenge campaigns use friendly competition and some good-natured peer pressure to increase participation, with especially good results on social media. For example, you might challenge fundraisers to learn a TikTok dance and post a video, run or bike a specific distance, or do a symbolic activity (like drinking only water or wearing bright lipstick every day) for a specific amount of time.
The Strava integration on Raisely makes it easy for participants to track athletic activities and keep their fundraising page updated with their progress.
Forever Projects launched the "What's Your Kilimanjaro?" challenge to raise money for children in Tanzania, where the famous mountain is located. Individual fundraisers choose how they'll "climb" their Kilimanjaro by trekking the 5,895-metre elevation (or 62-kilometre journey to the top) from wherever they are. Participants can choose to walk, run, bike, skate, swim, or otherwise "go the distance" in whatever way is best for them!
4. Events
When it comes to fundraising events, you're no longer limited to in-person gatherings. Adapting to virtual, hybrid, and asynchronous peer fundraising events can make it possible for people to participate while lowering your overhead costs and the amount of volunteer labour it will take to run a successful event. Take a look at the new ticketing feature we just released!
Peer-to-peer fundraising campaigns work well in conjunction with events like your annual gala, a virtual video game tournament, a talent show, or any other kind of event your community will love.
Be sure you have a plan to collect donations both before and during your event, and don't forget to take advantage of major giving days like GivingTuesday to amplify your fundraising efforts.
SurfAid expanded their annual SurfAid Cup event into the Make a Wave campaign, which raised over seven times their goal in just 30 days! By turning their signature event for professional surfers into a challenge for enthusiasts at all levels, SurfAid grew their pool of donors to 1,200+ surfers in over 21 countries, and raised a whopping $739,000 in 2021.
Plan Your Peer-to-Peer Campaign
Got an idea that really represents your mission and has the power to mobilise your community? It's time to start planning! Use the P2P fundraising framework we created and watch a recording of our walkthrough webinar.
The framework takes you through these four major planning phases: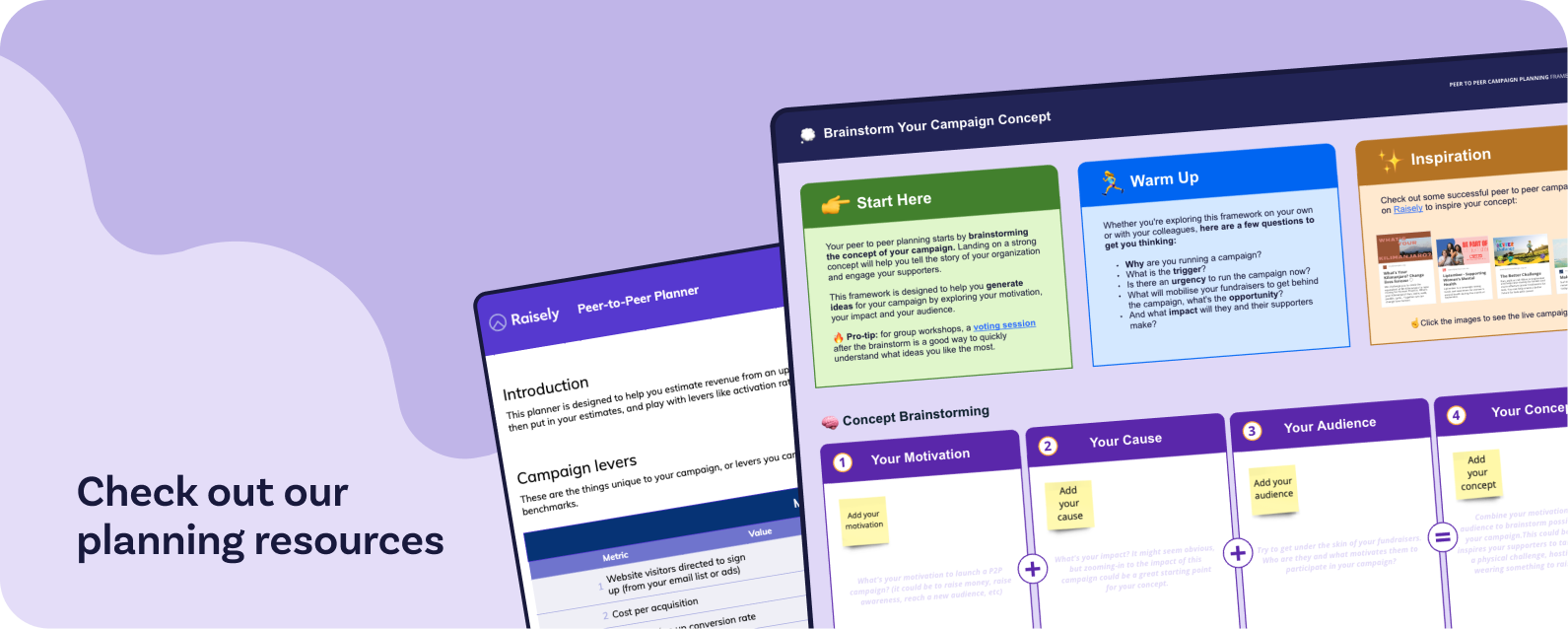 1. Concept Brainstorming
We've already talked about how to find an idea that speaks to your mission and your community's interests and reasons for supporting your cause. You're already ahead of the game! Two other important elements of your concept are urgency (why give now?) and opportunity (how unique and plausible is your idea?) Finally, what's the impact each of your supporters will make?
It may take some research to find out what kind of event will work best in your situation. For instance, Starlight Children's Foundation decided to create a swim challenge when they learned there were no major peer-to-peer fundraisers focused on swimming in Australia — even though it's a top sport in this country.
2. Shape Your Campaign
Once you have a solid concept, you can set fundraising goals. To set your campaign goal, break down the amount of money you think you can raise from each major source.
In addition to peer donations, consider approaching sponsors to ask for a pre-campaign boost or make an agreement for matching gifts. We know, there's a lot of math in this step. Use our handy P2P Planner to help estimate revenue for your overall campaign goal.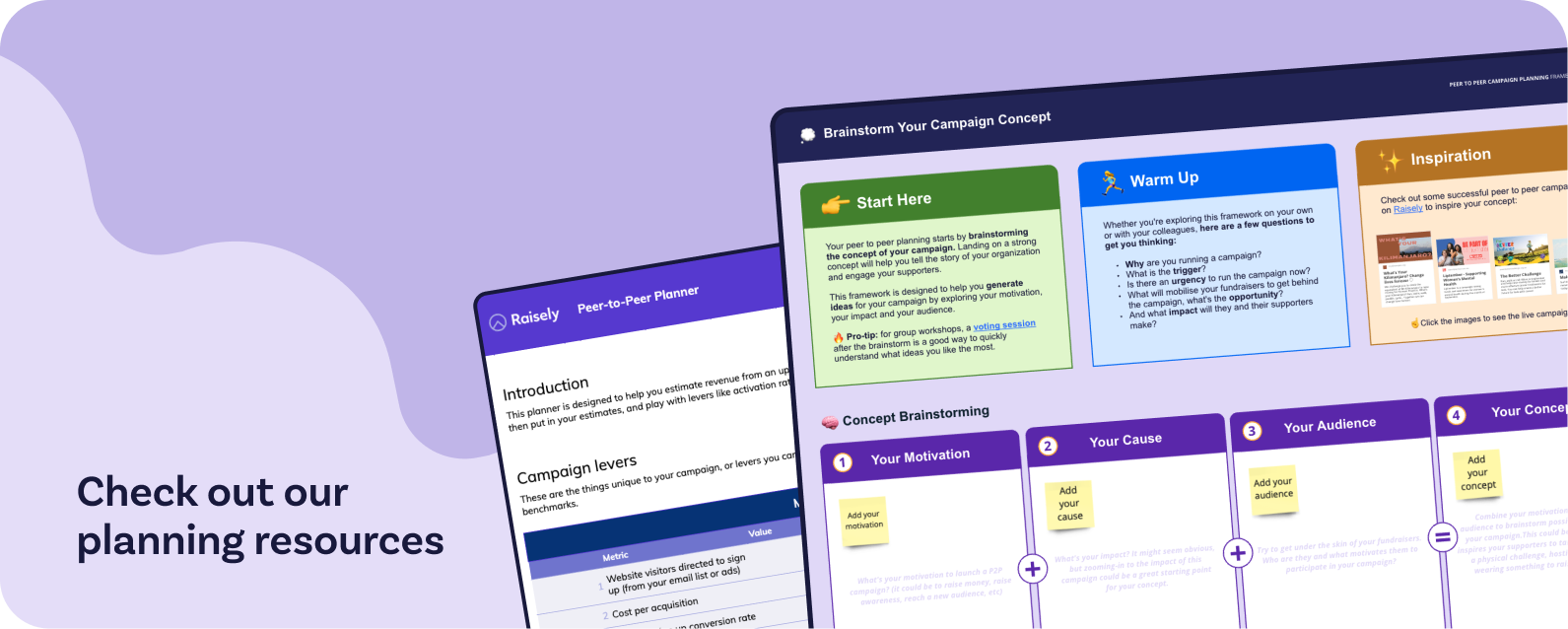 You'll also want to think about how many volunteer fundraisers you'll need to recruit and what guidelines you'll give them for creating their individual goals. The most common goal set on Raisely is $500, which is close to the average goal. See? Math can be kinda cool when you're changing the world!
At this point, it's also important to determine what resources you'll need and plan what needs to happen before, during, and after your peer-to-peer fundraiser. What fundraising software has all the features you need? What other tools, materials, and labour will it take to carry out your campaign?
3. Communications and Promotions Plan
Your plan for communications and promotions should cover how different groups within your community will hear about your fundraiser and when. Your campaign page will serve as a home base showcasing your campaign concept and up-to-the-minute progress. You might want to include a leaderboard or fundraising thermometer for an easy-to-understand visual element.
Build up some steam before your campaign kicks off by sending out a press release and contacting your base of existing and past donors first. Think about who's on your email list, who your followers are on various social media platforms, and who you want to reach through targeted ads.
As much as peer-to-peer fundraising focuses on your volunteers' stories and experiences, it's also important to provide marketing materials that tell your nonprofit's story in a simple and compelling way.
Plan to create some sharable materials like social media images, videos, fact sheets, and infographics that feature your branding and send a message new donors can relate to. Present these to your volunteers in a toolkit they can download at sign-up so they'll feel prepared and supported.
4. Supporter Journey
The next step is to map out your supporter experience, including activation or onboarding of new supporters, fundraising, meeting goals, recognition, and any other points of communication.
Raisely's peer-to-peer template comes with a set of automatic messages that form a basic skeleton for your campaign, which you can customise with your organisation's branding and the details of your fundraiser.
You'll want to automate as many of your communications as possible so you can give your full attention to your fundraisers during the campaign itself. You'll want to be glued to your computer so you can engage your fundraisers with shoutouts, answer their questions, and deal with any last-minute issues.
At the very least, your supporter journey should include the following steps:
Learning about your campaign
Setting an individual fundraising goal
Creating their individual donation page or team page
Spreading the word about their participation and directing their friends and family to their donation form
Participating in any activities or challenges you've planned, engaging with gamification, and receiving recognition along the way
Reporting progress and meeting their goal
Receiving a big THANK YOU for their participation
Follow Peer-to-Peer Fundraising Best Practices
We've got just a few guidelines to help you run the most successful fundraiser you can. Plus, you can watch this webinar with Starlight Children's Foundation to find out how they went from zero to $5 million raised on Raisely and get more insights you can use to start, scale, and optimise your campaign. Most of all, remember that communication with your donors and volunteers is the number-one priority for your team.
Make sure you have enough people monitoring social media, email, SMS, and other channels to respond to everything, no matter how big or small the engagement.
Recognise your top fundraisers and donors, and highlight their stories in social media shoutouts.
Make sure your donation forms and peer fundraising pages are optimised for mobile since 48% of peer-to-peer sign-ups come from mobile devices.
As a general benchmark, most peer-to-peer fundraising campaigns focus on getting everyone signed up in the first month and wrap up after three months of fundraising.
Remind volunteers to manually enter cash donations regularly to make sure you're getting the most accurate totals.
Raisely Was Built for Peer-to-Peer Campaigns
There are a lot more online fundraising platforms to choose from now than there were just a few years ago. While some work best for strategies like crowdfunding, membership management, and other fundraising strategies, our peer-to-peer template and automation features make Raisely an ideal choice for peer-to-peer fundraising.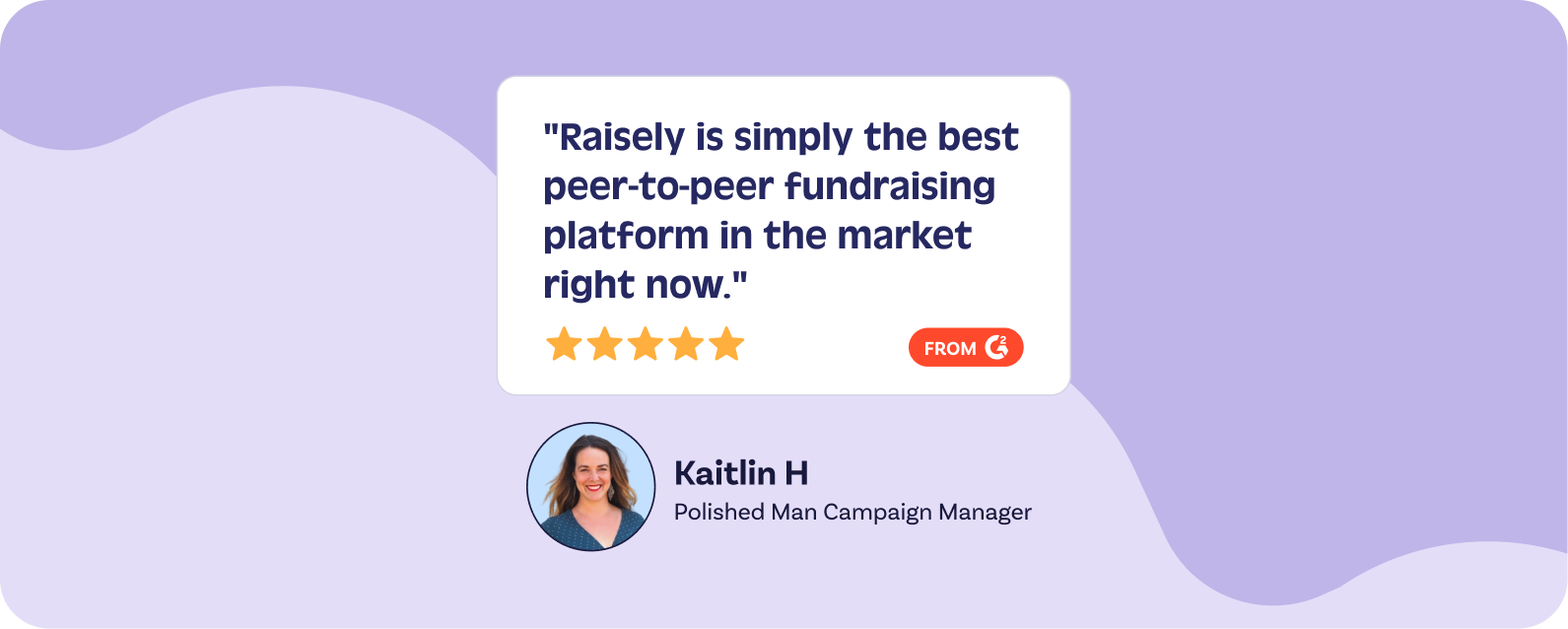 Everything you need to run a successful campaign is available with a free account, including simple yet stunning personal and team fundraising pages, automated email templates, segmented messages, and easy social sharing. We've built in plenty of gamification features like leaderboards, custom achievement badges, and progress bars. A comprehensive suite of campaign management and reporting tools is right at your fingertips.
We created Raisely specifically to provide small but ambitious nonprofits with the tools they need to create professional-quality campaigns and achieve their fundraising goals. If you've got a can-do attitude, you deserve software that can keep up!
Our fundraising pages are mobile responsive, and Raisely integrates with other popular tech tools like Zapier, Google Analytics, Open API, Salesforce, and more. We've balanced easy-to-use software with advanced customisation, and next-level designers have the option to use developer tools like custom CSS and JavaScript.
Still not convinced? See how Raisely stacks up compared to other peer-to-peer fundraising platforms.
Measure Your Success
Raisely's visual report builder makes it easy to track your fundraising goals and KPIs and even automate your reports to take snapshots of your data when you need them. Here are a few key metrics to watch for insights on how your peer-to-peer fundraiser is going.
1. Activation
At what rate are new supporters signing up to be volunteer fundraisers and raising their first dollar for your organisation? The average activation rate is 60%. If your activation rate is lower, it's a good idea to encourage fundraisers to upload a profile photo, share details about their fundraiser on social media, and even warm up their campaign by self-donating.
2. Average Raised for Individuals and Teams
Across the board, individuals typically raise an average of $381 and teams raise an average of $1,624. Interestingly, 65% of all fundraising comes from the top 10%, and 52% comes from the top 5%.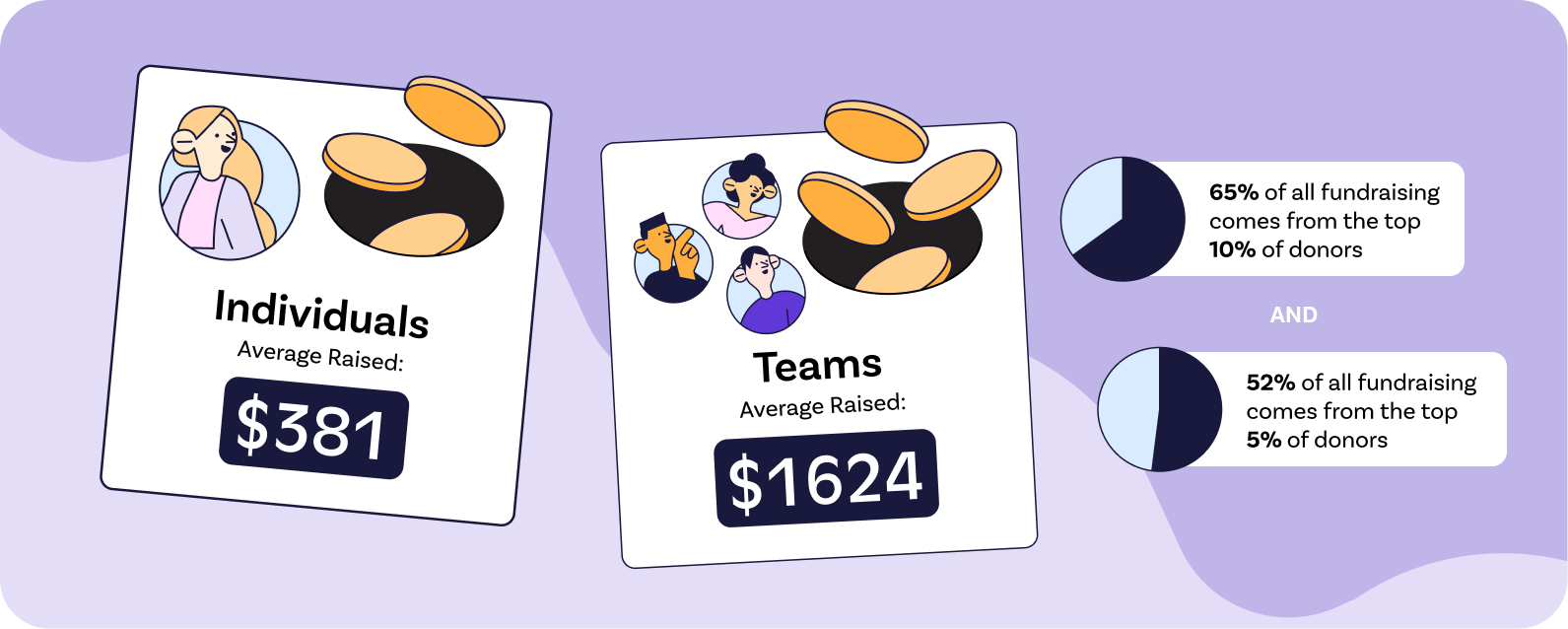 If your fundraisers aren't on track to reach these numbers, first make sure they're entering cash donations, sharing their donation page with their social networks, and updating their progress for active events. Showing your top performers a little extra love can be a really effective way to get a boost, and encouraging them to work as a team can also bring numbers up.
3. Total Funds Raised
Of course, the ultimate measure of a successful peer-to-peer fundraising campaign is whether you reached your goal for total funds raised. Getting to the halfway mark is the hardest part, and you'll notice that as you get closer to your goal, donations will come in at a faster rate and some donors will even give more than once.
Early in the campaign, your focus should be on recruiting as many individual fundraisers as you can. Later on, it becomes about engaging your fundraisers and helping them achieve and exceed their goals.
4. Giving Trends
Is there a particular day of the week when donors are most active or a popular donation amount that stands out from the rest? If you can identify giving trends early enough in your campaign, you can change up your strategy to encourage more participation. For instance, sending more messages on a certain day or adjusting suggested donation amounts.
Wrapping Up Your Peer-to-Peer Fundraiser
When all is said and done, it's time to celebrate the impact your community makes. Email your participants and donors with details about the amazing impact of the campaign and what you've achieved together, including the total funds raised and exactly what you'll be doing with their donations. Show them your heartfelt appreciation and make sure they know how they can stay in touch with your nonprofit.
Finally, ask your team for feedback and note what worked and didn't work for your next peer-to-peer fundraising campaign. Make sure your reports on the metrics in the previous section are saved where you'll be able to find them, and take detailed notes on your volunteer fundraisers' and donors' behaviour.
Following fundraising best practices will only take you so far — knowing your community well is the secret to success, and there's no substitute for insights from past experience.
Peer-to-Peer Campaign Inspiration
We've seen a lot of successful peer-to-peer campaigns on Raisely soar past their fundraising goals while igniting social movements to create positive change. Here are a few standout success stories: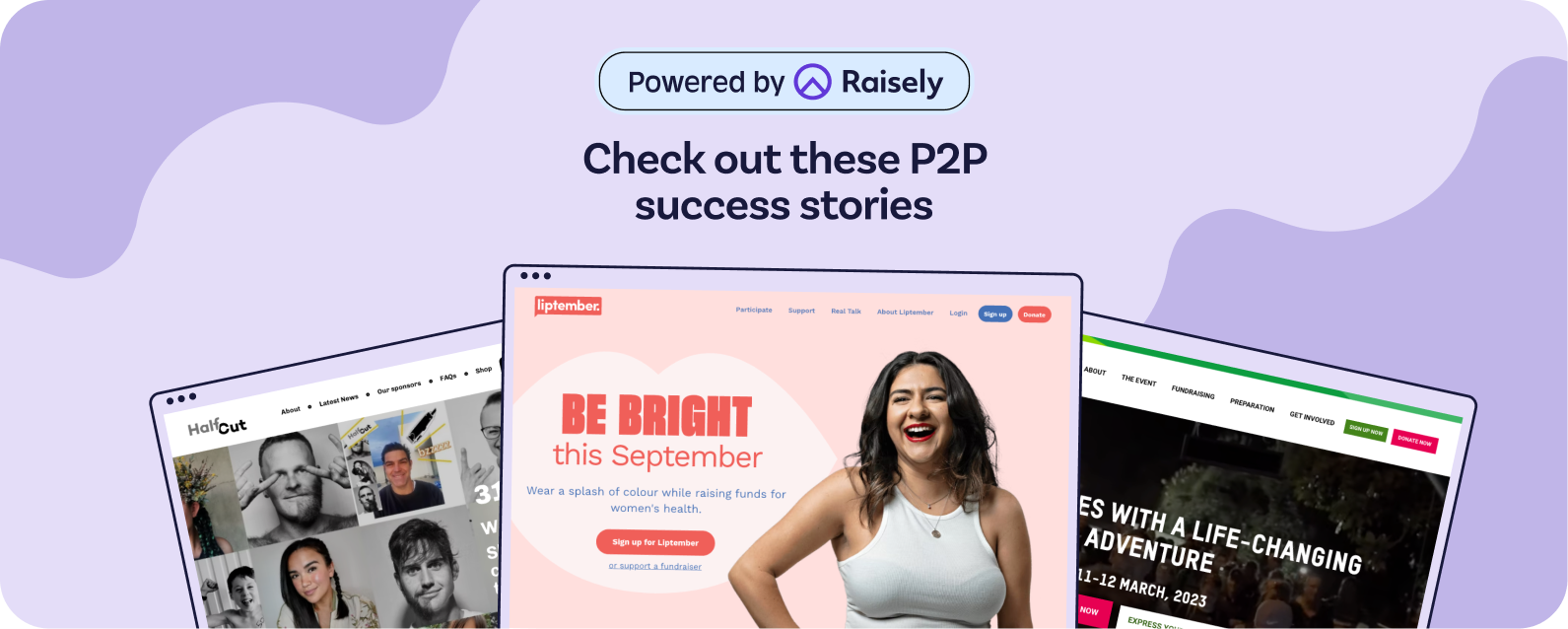 HalfCut is saving what remains of the Daintree Rainforest in Queensland. To symbolise the fact that only 50% of the world's rainforests are still standing, fundraisers shave, braid, or colour half of their head on World HalfCut Day every year.
Liptember was founded in 2010 to fund gender-specific mental health research for women and nonbinary people. In the month of September, fundraisers wear bright lipstick to raise awareness for the campaign.
Oxfam Trailwalker challenges New Zealanders to combat poverty and climate destruction by trekking either 50 or 100 km through the mountainous Taranaki region. Walkers and runners work together in teams of four during this annual event that lasts 18-36 hours.
---
Peer-to-Peer Fundraising Is Here to Stay
Our world has gone through some big changes in the last few years, to say the least, and peer-to-peer fundraising has emerged as an easy and effective way for individuals to get involved with causes they care about.
People all over the globe have shown that fundraising for nonprofits and charities is a high priority during tough times. Tools like Raisely are empowering small but mighty communities to focus their time and money on being the change they want to see in a digital-first environment.
So what are you waiting for? Sign up for your free Raisely account and start customising our peer-to-peer template for your next campaign today!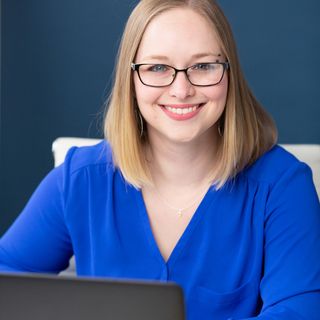 Kelsey Hoff is a content marketing specialist, freelance writer, blogger, and poet. She creates emotionally intelligent content that "listens first" for effective, ethical thought leadership.