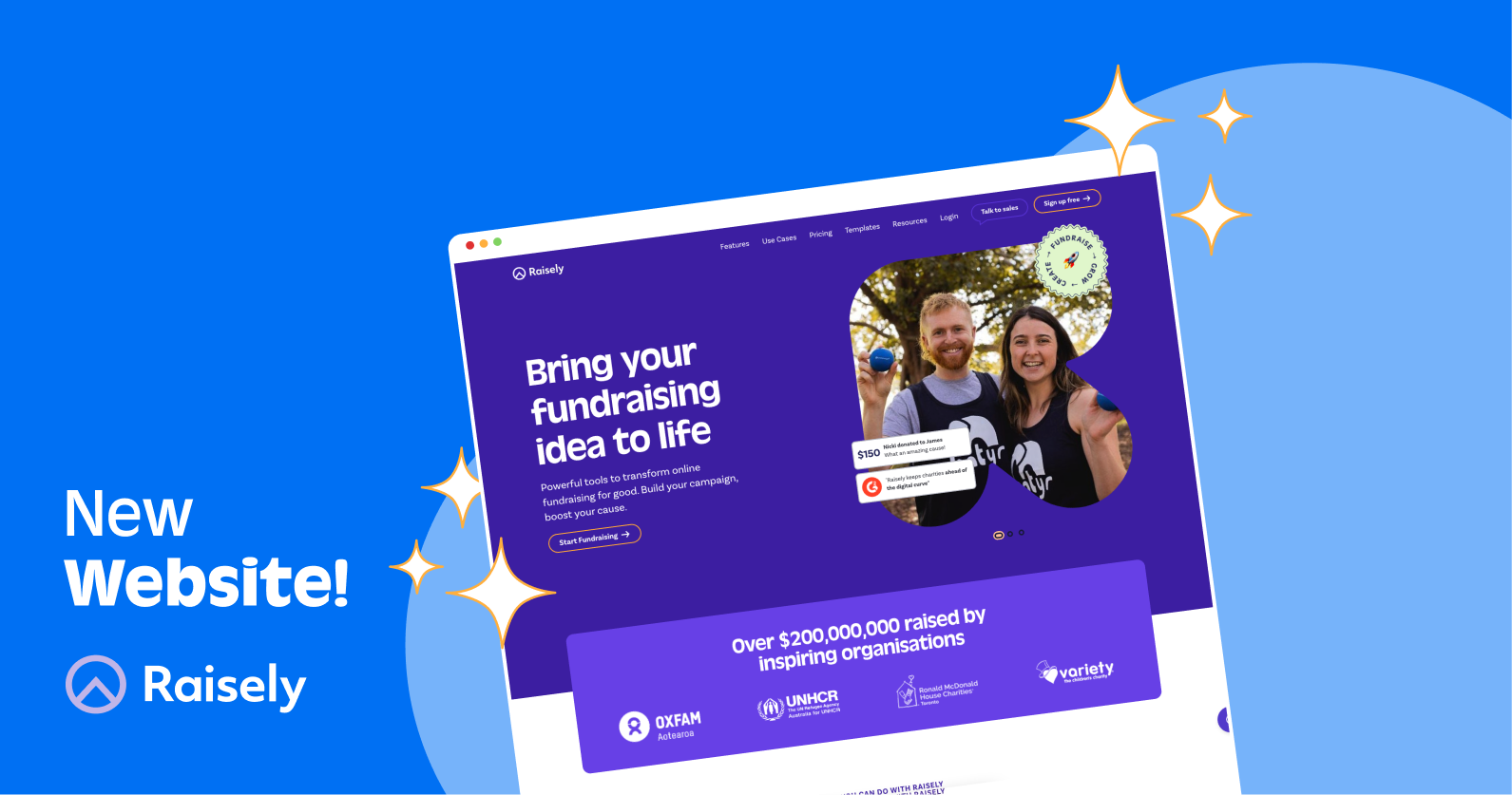 Why we rebuilt Raisely on Raisely
When life gives you lemons... make a brand refresh! Introducing our new look and feel and overhauled website. Spoiler: it was built on Raisely!
Change. There's no better word to describe Raisely's trajectory so far. Since 2016, when we first started dreaming about a fundraising platform that would empower charities through tech, a whole lot has changed.
We're proud to be inspired daily by those working for a better world. In fact, if you're reading this right now, I'm pretty sure you're part of this select group: our brave, creative, resourceful community of change-makers. After all these years, we've seen thousands of charities use Raisely to raise more than $250 million, motivating millions of donors and fundraisers everywhere. We can only imagine how much our world changed as a result.
But we have also changed a lot! From a small team in Australia, we have grown to be a distributed team of 30+ (and counting!) talented people working across 18 cities and 8 countries. After launching tons of features like best-in-class fundraising campaign templates, a built-in CRM and a brand new reporting functionality, it's safe to say that our platform has come a long way.
Should I even mention the last two years? While humanity faced the terrible threat of a pandemic, we saw how essential technology became in all areas of our life. The not for profit sector is no exception. Gladly, a wave of creativity and goodwill helped us adapt quickly and come together to help those in need. And as we look forward, we are sure that nothing will be like it was before - ever again.
Perhaps we could think about all those changes from a new perspective: evolution.
Why did we decide to refresh (or evolve) Raisely's brand?

It's hard to know when is the right time for a rebranding or brand refresh. As Barbra Gago, the former CMO of Miro puts it:
Investing in brand – and re-branding – can result in long-term, exponential returns for a company. But evolving a familiar and beloved identity can create some unique challenges.
A rebrand or brand refresh often feels like going through a home renovation - while still living in it. It's not comfortable, and the timing will likely never be perfect, but it is what it takes to live in your dream house.
Mid last year, our product team was shipping new features at the speed of light, and our design team was organically evolving our look and feel towards a warmer, more human style.

While there was no reason to change our name, logo and brand essence (our beloved purplish vibe 💜), we certainly needed a better, simpler way to explain our platform and some structure to guide our design team in their visual evolution endeavours. We decided it was time to focus on a brand refresh.
How to navigate a brand refresh?

Marty Neumeier defines a brand as "a person's gut feeling about a product, service, or organisation. (...) It's not what you say it is, it's what they say it is."
That's why I believe no one can own a brand. Building a brand is a collaborative effort by nature. Branding happens when you use our page editor to create your next fundraising campaign, when our customer success specialists reply to your email, or when you're reading this post on our blog. Branding happens at every experience with Raisely - no matter how or when.

Branding is a team's sport
Our brand refresh process started with the collaboration of 5 people (each representing one Raisely team) through brainstorming sessions that we called Brand Workshops. They were designed from scratch to help us get insights on:

🤩 Aspirations: what inspires us, and what do we want to be?
💎 Attributes and expression: what makes us unique?
🎯 Positioning: who is our target audience, what value we provide, and why does it matter?

💡 You can check our Brand Workshops board if you're considering a brand refresh for your charity.

Flexibility at the core of our brand strategy
With great ideas flowing at our Brand Workshops and extraordinary insights from a survey we sent to our community - it was time to start making sense of everything.
We realised that we should evolve our whole brand around a single concept: flexibility.
We believe that every fundraising campaign should be unique - and that shouldn't be hard. We're building a no-code world, where great tech is available for everyone, and the boundaries between ideas and reality become seamless. We want to help every charity thrive in online fundraising - from when they get started with a beautiful, customisable template to when they're ready to scale with advanced features like automated messages. We value the freedom to tailor your workflow to your strategy with easy integrations with other apps. And, most of all, we believe we can do all that without that crazy price tag.

Flexibility is how we believe we'll fulfil our mission to improve the wellbeing of people and planet by empowering charities and non-profits everywhere to bring their fundraising ideas to life.

Look & Feel

When it was time to translate our brand strategy into a visual language, we started by literally drawing our intentions: to become a clay-like material that, in the hands of creative change-makers, could be shaped to bring any fundraising idea to life.

In the words of our talented design team:
Clay and Play-doh's malleable and flexible nature has been lending inspiration to the organic shapes found throughout the concept. Both share a sense of playfulness, experimental discovery and human touch, reflecting the flexibility at the core of the Raisely product.
The shapes are exuberant, energetic and express a sense of excitement and quirkiness that is unique to Raisely.
To complement our vibrant shapes, we also settled on a new hero typeface. Antique Olive features unique characteristics that some designers might call "radical" (who would think that's bad?). Its secret sauce is called a "reverse contrast", where the strokes are heavier on the top and bottom and lighter on the sides, adding that quirky character that we love.
Last but not least, photography is used to celebrate our community, those who unapologetically speak their minds, raise awareness and mobilise communities to make the world a better place. Real photos from real charities add that human touch that brings everything together, reminding us of the greater purpose of our brand and company.
A new home for a new brand: our overhauled website

Wondering where you can see it all coming together? There's a new website live!
That was the last step in our brand refresh. The most exciting part? It's powered by Raisely! Charities like Surfaid, the Himalayan Trust and Bridging the Gap are already using Raisely to build not only their fundraising campaigns but also their entire website. We decided to do the same and keep using our own platform to bring our new brand to life.
A website is way more than a collection of pages. It's where you explain what you do, why you do it and why it matters. It's a powerful brand statement.
Our website also allows us to introduce new charities to Raisely, expanding our reach and impact towards our big goal of helping charities raise $1 billion by 2025! With that in mind, it's safe to say this was both the most challenging and rewarding project of my professional career.
Along with a new structure, showcasing some amazing campaigns powered by Raisely, there's also a revamped blog, so you'll never run out of great fundraising ideas. Check our guides, upcoming webinars and customer stories to get inspired! (And if you're keen, don't forget to subscribe. You'll get great emails from Georgie, jam-packed with our favourite fundraising content curated from the web.)
The new website is a celebration of our impact so far - and a source of inspiration for what's yet to come. Take a moment to navigate it and let us know what you think. 🙂
An exciting look into the future

It's been a wild ride! And I'd like to thank our amazing team, who brought their talent, minds and hearts to build the foundation for our next cycle.
As we look back and reflect on the process of refreshing our brand and overhauling our website, what excites us the most are the changes that are yet to come!
It's finally time to hand it over to you as we write the following chapters of Raisely's story together. From every new feature to our pursuit of a better way to do business - it all starts with the invaluable collaboration of our community. So bring along your wildest ideas - we're here to make them happen!
Stay in the loop. Delivered to your inbox twice a month.