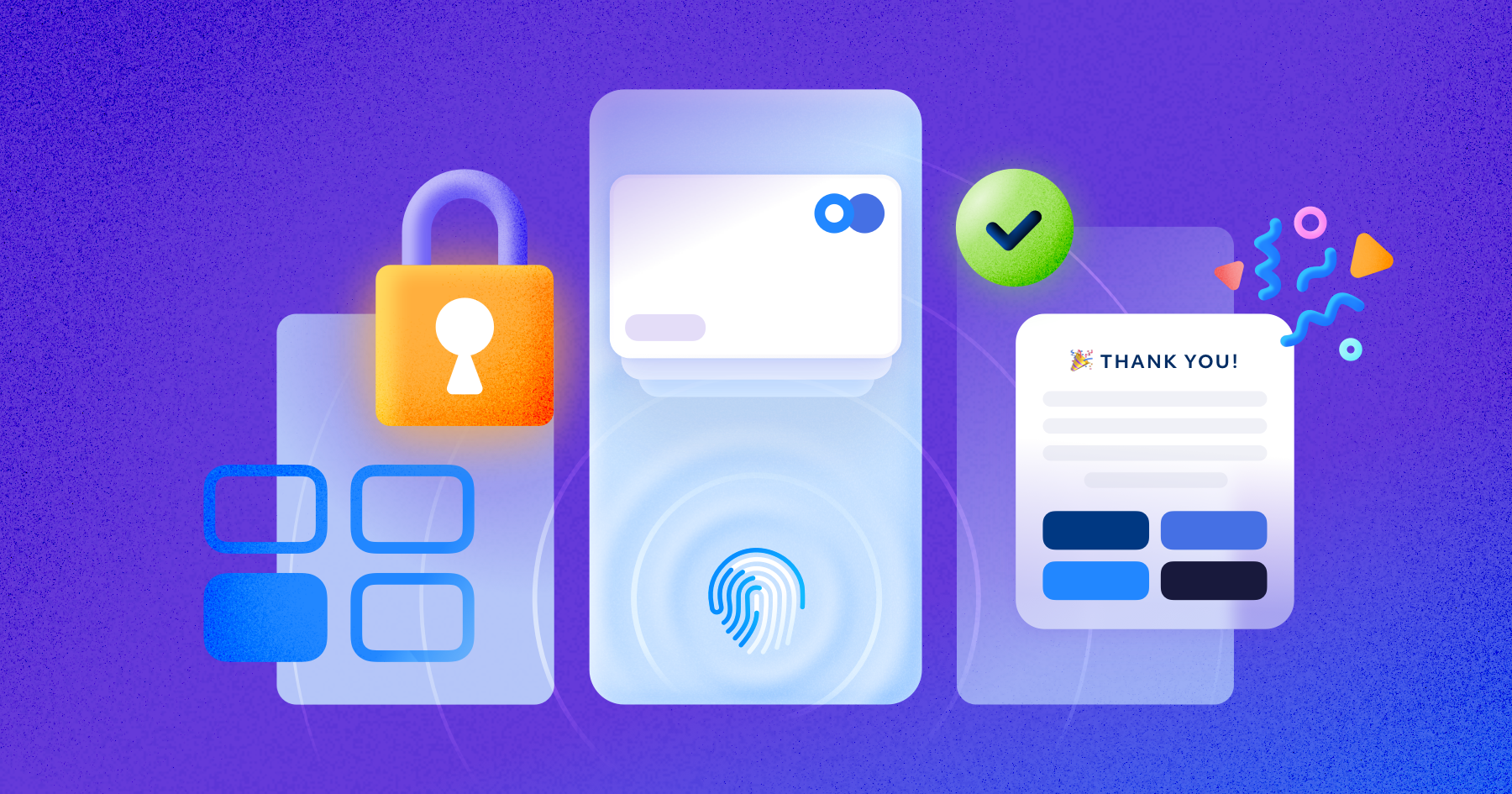 Raisely makes it easy for charities to raise money online. We do that by helping you create optimised fundraising websites, that are optimised for mobile and provide an incredible giving experience for your supporters.
Today we're making donating on Raisely a whole lot easier by introducing more ways for donors to pay. The real headline though? Today Raisely is boosting mobile giving for every charity on our platform by up to 60% – for free.
There have been months of work from our whole team that's gone into this announcement. That kind of impact makes it all worth it.
Let's dive in. I'll take you through how we think about donation form design here at Raisely, then show you everything that's changed.
What makes a great donation form?
There's a concept in the world of user experience that I often talk about called effort justification. It's a pretty simple concept – if the effort required is justified by the reward then you've got an experience that'll perform pretty well.
An e-commerce checkout is a classic example. If I'm buying a t-shirt then I'm going to put up with filling in a whole bunch of fields, clicking lots of things, and dealing with a clunky form all because I want the t-shirt.
In our change-driven world of fundraising, we're not trading money for t-shirts. We're working with goodwill, good stories, personal connection, and a promise of impact.
When we first designed Raisely's donation form, we wanted to create a form that was quick and simple. No hoops, no clunky bits. The quickest path from inspiration to impact for every donor.
At the time a lot of organisations we worked with had donation forms that felt more like a tax return. Inspiring or simple wouldn't be how you'd describe them. We set out to change that, and our iconic 3-step form was born.
While good design and good UX played a role, we also leant heavily on research led by Kyle Rush in the 2012 Obama campaign. Over a period of extensive testing, they found that a 3-step donation form converted at a rate 5% higher than any other layout they tried.
The core structure of Raisely's donation form has always been 3-step. You choose a donation amount → enter your details → complete your payment. It's a proven structure, if your donation form doesn't work like this right now give it a go. I think you'll be surprised!
Small screens, many gifts
How we use the internet is pretty different now from what it was back in 2012. Even recently, while we've all been hunkering down inside binging Netflix and trying to figure out what the heck we're supposed to do with Clubhouse, the transition of things offline → online → mobile went from a walk to a sprint.
Now, nearly half of ecommerce happens from a phone. That figure is even bigger for donations, with 65% coming from a mobile device (that's our data). That's only going to keep going up. It's already 54% higher than 5 years ago in 2016.
Our phone gets us around, keeps us healthy, orders us dinner, manages our money, and keeps us connected with the world. It turns out, our phone also makes for a really good wallet.
An era of *Pay
I'll be honest – I use an iPhone, and I think Apple Pay is magic. One tap, all your details, and you're done. I've had it for years, and it still makes paying for things kind of fun.
Typing in a 16-digit credit card number, expiry and CVC on a tiny keyboard is not fun.
Turns out I'm not alone. According to our friends at Stripe, in places where cards are really common like the UK, Australia, and the US, digital wallets are now nearly ⅓ of all card payments.
This era of *Pay solves an important UX problem that we see when we drill into conversion rates. Drop-off on the final step of the donation form (where we ask for card details) is 30% higher on mobile than it is on desktop.
We think about this stuff a lot. When you look at all this evidence, along with the feedback we hear from donors, it seems like there's a clear opportunity here to making giving even simpler.
Here's what we've come up with.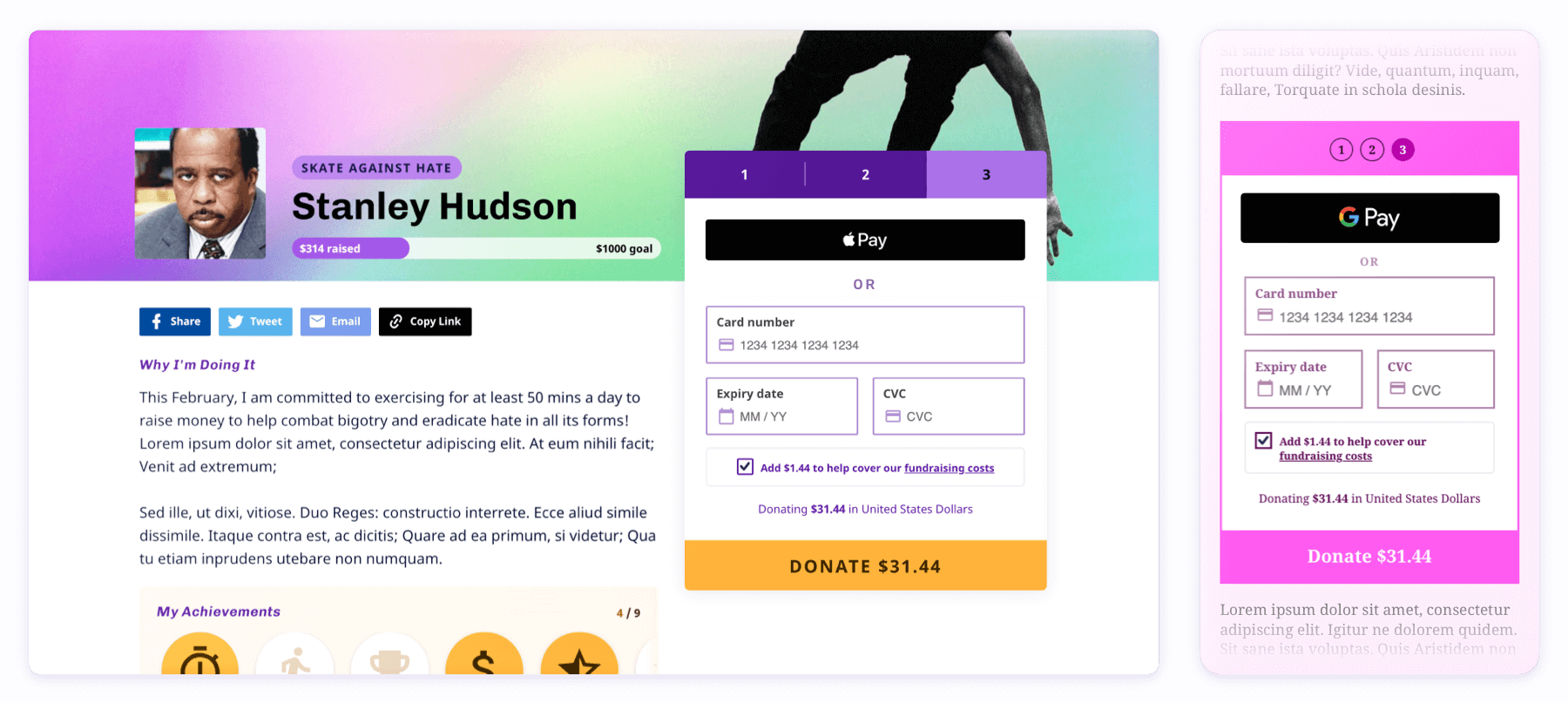 Say hello to digital wallets on Raisely 👋
Today we've released a new donation form for all campaigns on Raisely that adds support for Apple Pay and Google Pay, alongside credit cards and PayPal.
These new payment methods are shown automatically on the final step of the donation form when a visitor has them available.
But this isn't just about adding a feature. We've thoughtfully placed these buttons prominently at the top of the screen, and we've moved PayPal out from hiding under a tab to live alongside them.
A simple change with a huge impact
We've been testing these changes for a few weeks now, closely monitoring their performance. Now – this is early data – but it's pretty remarkable.
Here's what we've found:
Our donation form now converts higher on mobile than desktop for the first time ever
The conversion rate with digital wallets available is 9% higher on desktop
The conversion rate with digital wallets available is up to a whopping 64% higher on mobile
Why? Abandonment rates on the final step of the donation form have dropped dramatically.
A the end of the day, this change means more donors will complete their donation because it's just so easy now. That's more money for your cause and more progress towards your fundraising goals.
---

We've been able to roll this update out to almost everyone using Raisely, there's nothing you need to do to enable wallets on your campaign.
If you're still on an older version of Raisely (Version 2) or you embed our donation form on your own website, these unfortunately aren't available yet. We're still seeing what we can do about the embedded form 🙂.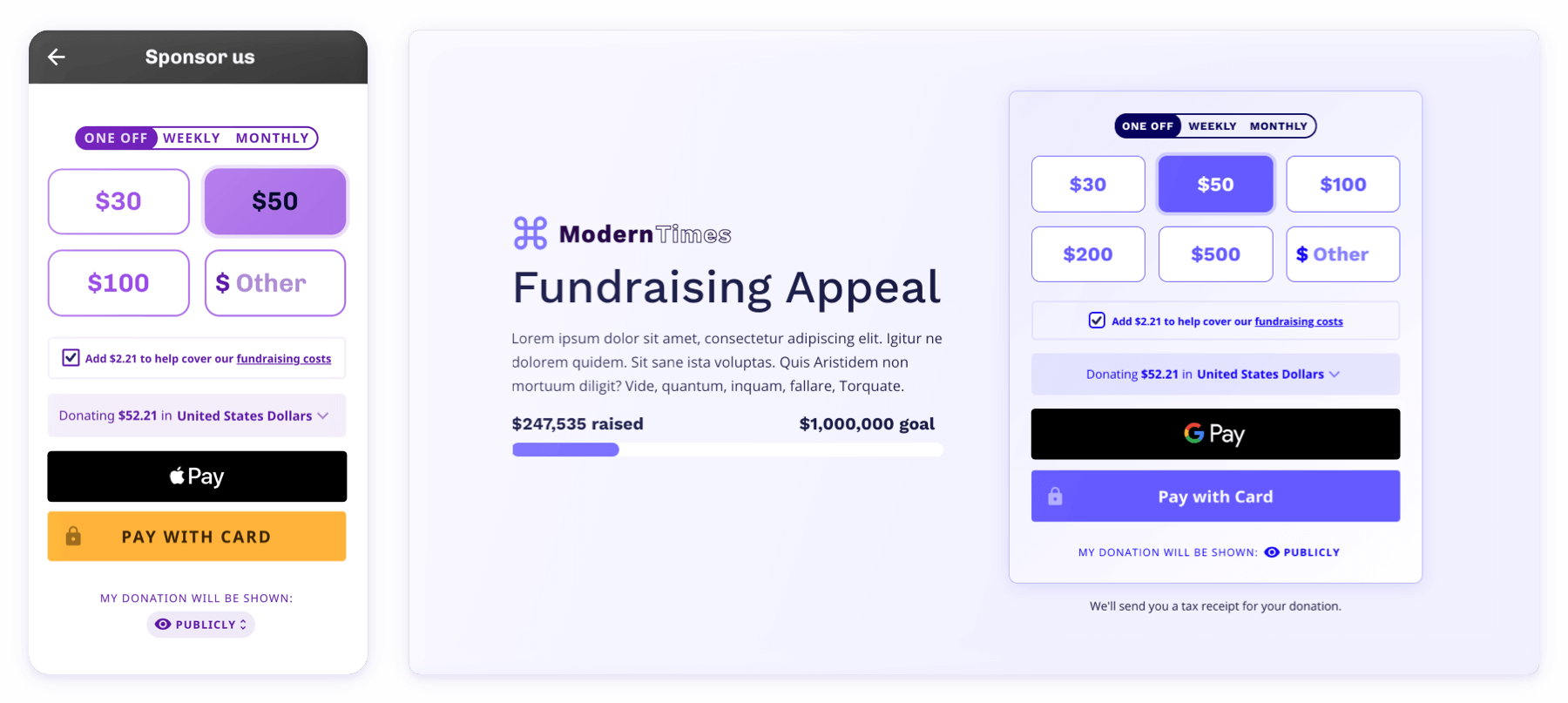 Introducing an entirely new donation flow ⚡️
The second major update we're releasing today is an entirely new donation flow. It's the biggest change to our donation flow we've ever released – and it'll let your donors complete their donation in just one tap. We call it Express Donations.
With Express Donations on Raisely you can let a donor skip all of the steps on the donation form. They select their amount, and pay with PayPal, Apple Pay or Google Pay. We automatically collect their name and email from their wallet.
Why'd we do it? Two reasons – on our standard 3-step form about 8-10% of people drop off on the second step. That's where we ask them to enter their name and email, along with any custom fields you're collecting.
Secondly – we believe that showing someone up-front that they can complete their donation in one click through their favourite wallet will reduce people dropping off because giving is "too hard right now". Here I am, back talking about effort.
It's not just us who thinks "one-click" style checkout is the gold standard. In fact, e-commerce giant Shopify claims that their one-click checkout options increase conversion rates by nearly 2x.
Express Donations are the fastest, simplest donation flow we've seen. While we don't have data yet, I think it'll mean even more people will give on your campaigns.

Express Donations on your campaign
Express Donations are available now on all Raisely campaigns, but you need to switch them on – they're optional because they come with some trade-offs.
When using an Express Donation flow, you're not able to collect custom fields. That's because we grab the donor's name from their wallet, and skip all those steps entirely.
You can read more about how to set up Express Donations in our guide here.
---
Express donations are just the start of our vision for frictionless online giving, and we'll keep you up to date on their impact on conversion rates.
Alongside digital wallets and Express Donations, we've bundled in a few other smaller updates to giving on Raisely.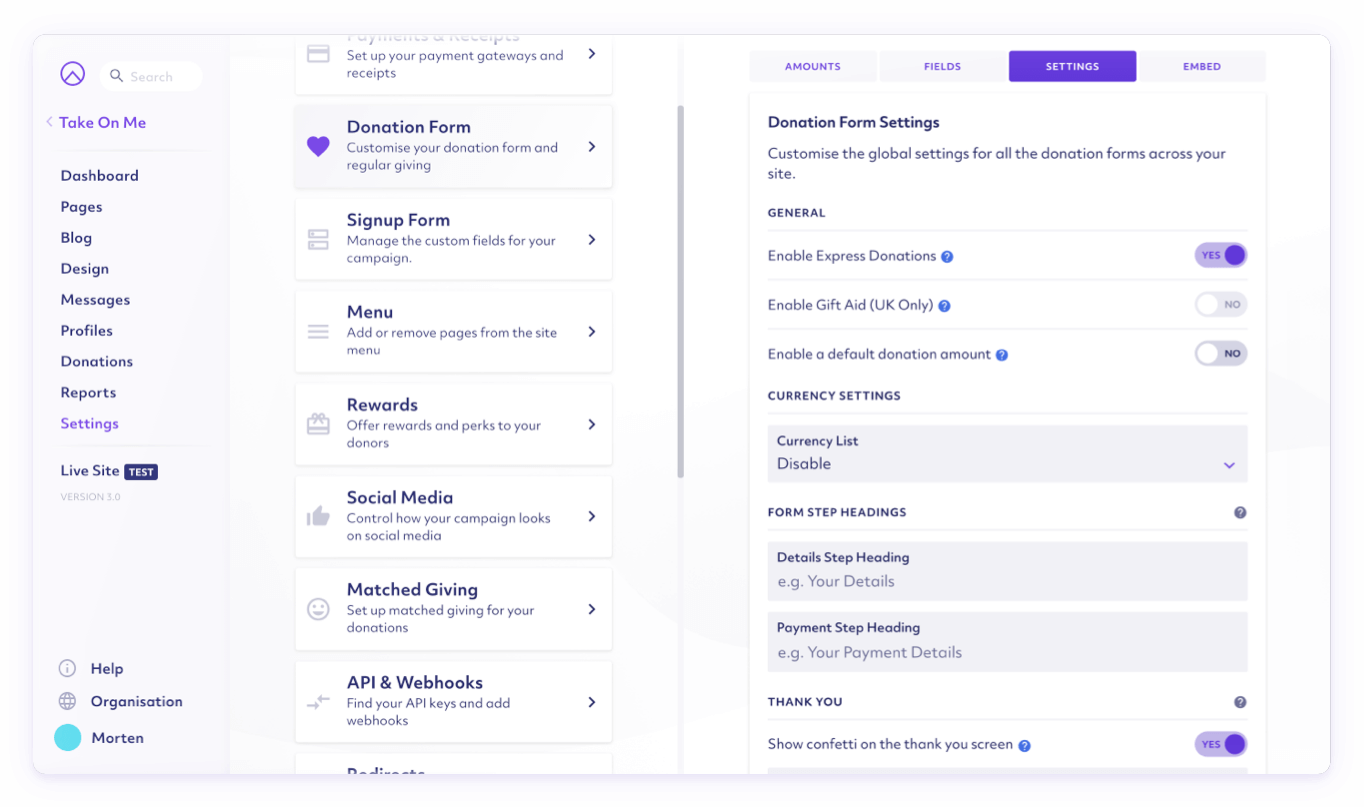 Consolidated donation form settings
Previously, Raisely used per-form settings for donation forms. This meant that if you wanted to change your thank you text, or tweak some settings, you'd need to do that multiple times across your whole fundraising website. It was confusing, and almost always a form got missed.
Now, you can control every aspect of your donation form under Settings > Donation Form in your Raisely admin panel. Less hunting for settings, more hunting for donations.
Check out our guide on donation form settings for more.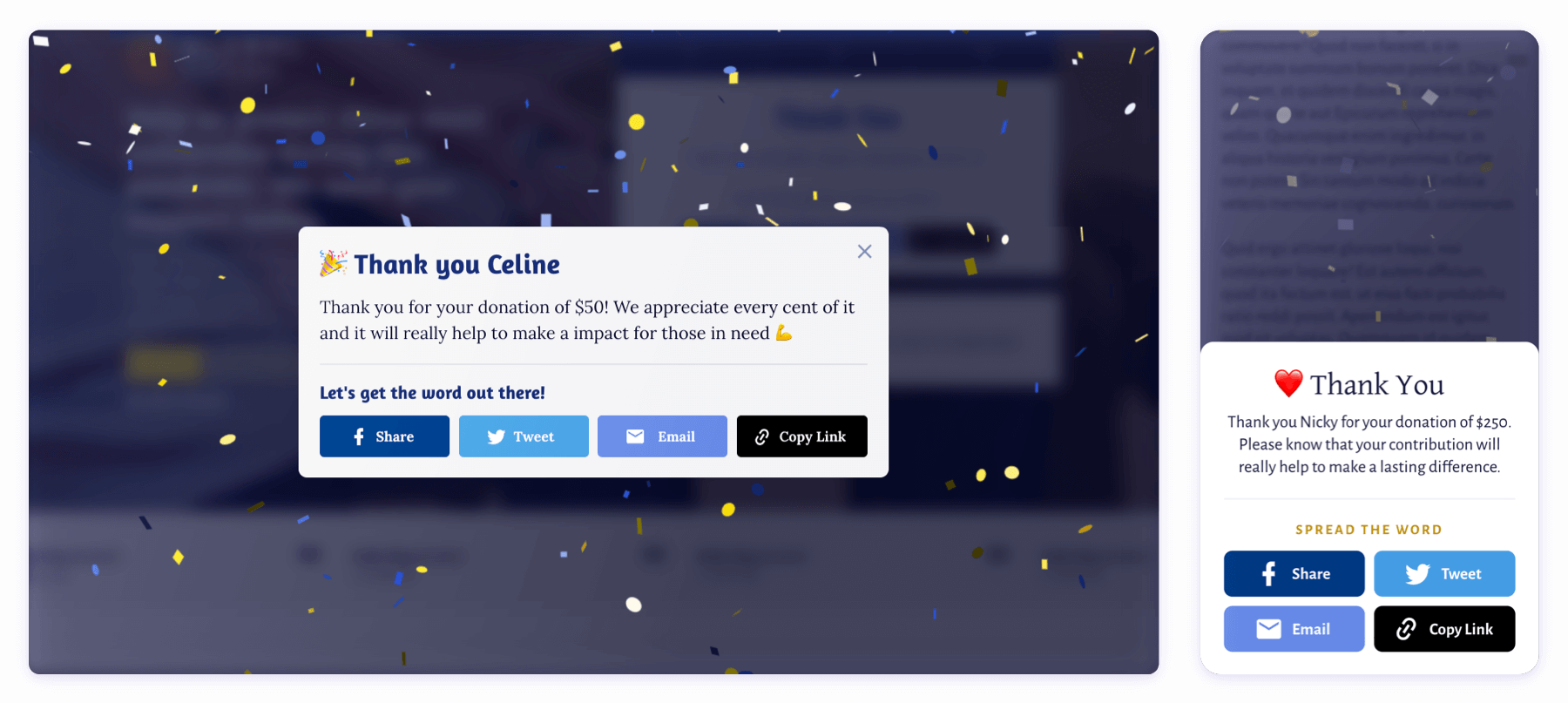 All good celebrations have confetti
Beyond being easy, giving should be fun, exciting, and rewarding! We should celebrate each donation, say thanks, and use that moment to build our relationship with each donor.
Now when someone donates on a Raisely campaign, we show them a thank you message in a modal and make it more of a moment.
But sometimes it's the little things that make all the difference, so we've added confetti 🎊. You can switch it on in your donation form settings.
We've upgraded the engine
We don't talk too much about the tech that powers payments on Raisely, but we spend so much time working on it. It's our core job to ensuring it's secure, efficient, and most of all – rock solid.
We've migrated Raisely to Stripe's new payments APIs. These new APIs mean it's even easier for us to add more payment methods to Raisely in the future, enhance our fraud protection, and allow us to support 3D secure and card authentication when it's required by a donor's bank.
Less fraud, more secure donations, happier donors.
---
I'm really excited by these changes, and it's not only because we're able to increase how much thousands of charities are able to raise without needing any extra effort.
I'm excited because the power of modern, mobile payments technology will help us create a more generous world, where charities – regardless of size – have the funds they need to thrive.
We're excited to see digital wallets, and our new donation flow, start to be used across our platform. We're keeping a close eye on conversion rates, and we'll continue to test and improve these experiences so you don't have to.
Ready to create your
next campaign?