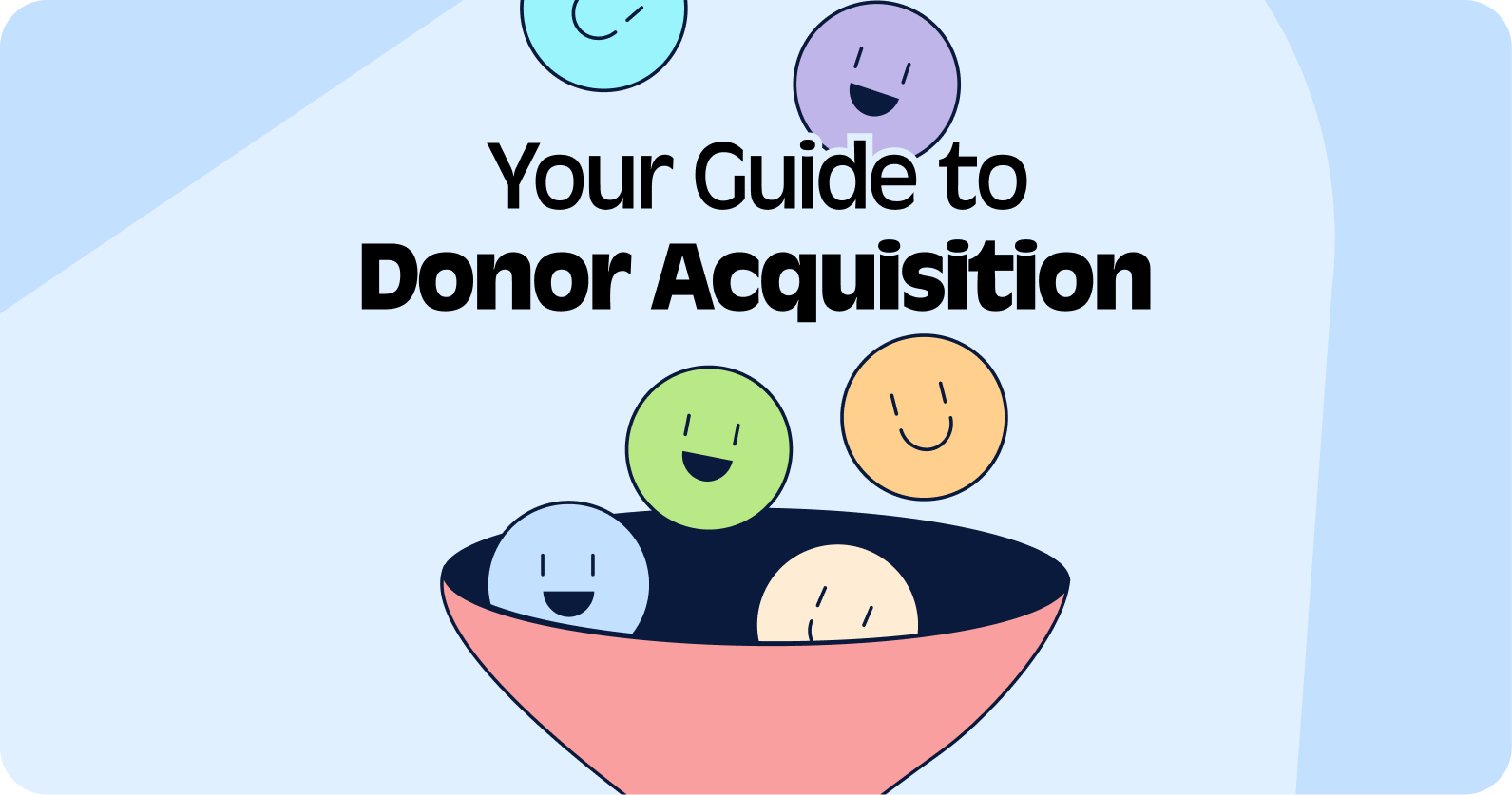 Guides
What is attribution and how to use UTM to leverage donor acquisition
Improve donor acquisition, boost fundraising revenue and optimise your marketing strategy | Making data work for your nonprofit.
How much time do you spend thinking about where your donors are coming from? Or how they're landing on your fundraising page?

If you answered something along the lines of 'not much', 'do I need to?' 'or 'what does attribution even mean?', then you might want to keep reading.

Ok, sure, attribution can sound kind of nerdy - but it is important to understand if you don't know where your donors are coming from and how you could be acquiring more!

With many ongoing marketing initiatives, whenever you see a boost in performance, it is fair to be wondering: was it that Facebook post that did really well, or are they all coming from the petition you're running?

Attribution is what allows you to measure the success of your acquisition strategies (and get great insights for optimisation).


How to keep growing your donor acquisition

While acquiring (and keeping) new donors can often feel like a game of chance, it really shouldn't. Some of the most effective online fundraising strategies happen when you dig into your organisation's data and understand who your donors are, and how they came across to you.

First of all, not all traffic sources are equal. Your donors can find you in a wide range of ways. Maybe they heard about you on Facebook, or they signed a petition and you sent them an email. Maybe a friend shared the link with them, or they found your charity by Googling a topic you're campaigning about.

We call all of these traffic sources, and traffic sources tell us how a donor got to the page where they chose to donate. Hooray!

It's important to understand your traffic sources so you can attribute revenue to different ways you're trying to find more donors. Let me give you an example.

You're a charity fighting for action on the climate crisis, and you had two ads on Facebook. One talked about species extinction, and the other talked about the prevalence of natural disasters. The one talking about natural disasters was responsible for 80% of your donors, and 10% of those donors went on to become regular givers when you asked them 2 weeks later. You'd want to know that right?

Data should inform and optimise your fundraising strategy, and attribution is a simple technique you can use to really help you get it right. Leave the game of chance for another time.

Tell me all about attribution

The folks at Reforge say 'attribution is the practice of understanding how you assign credit to marketing initiatives'.

In other words, it's how you know:

Where each donor or donation is coming from
How many donations each marketing initiative is getting you
How each traffic source is influencing sign ups for your peer-to-peer campaign.

Once you know where your donors come from, what should you do with that information?

Investigate how well your audiences perform. Are your conversion rates different for different audiences?
Measure the success of your upgrade asks – do donors who come from your species extinction petition go on to be regular donors at a higher rate?
Learn from it – was an email particularly effective? Why?

Knowing where your donors come from is the first piece to building an excellent donor experience, and growing your charity. How do you know where your donors come from?

This is where UTMs come in. They're an industry-standard way to categorise traffic from all your different marketing initiatives.


What are UTMs?

UTMs stands for Urchin Tracking Module (nothing to do with sea creatures 🐚).They simply refer to tags that can be added to any URL. Whenever you see this juicy URL (in your case, filled with awesome information relating to your charity), the UTMs help your analytics tool identify and group this traffic.

You've probably seen them lurking around, looking something like this:
Why should I use them?

UTMs are an extremely effective way to both track fundraising campaigns and measure their success. They are universal, so many tools track them or support adding them automatically.
Most ad platforms (Facebook and Google) will let you set them up automatically on your links.

You can use the data to identify the channel donors came through, for example, or get a sense of which campaigns and messages are performing best.

All of which means you can keep fine tuning your fundraising campaigns and, ultimately, upping your charity's revenue.

The breakdown of campaign/source/term/medium used as UTM parameters is a tried and tested structure for understanding acquisition. We'll get to that next.

How exactly can we track marketing initiatives using UTMs?

UTMs can be used in ads, emails and anywhere you're sharing a link. Trust me, once you get started, you'll want to distribute tracked links everywhere.

Press release going out? Make sure you have a custom UTM for any links on it. Your Instagram famous "link in bio"? I bet you'll want to track it. And then, before you know it, you're a UTM aficionado.

We're going to take a quick look at 5 key parameters and what you can use them for. You can use all of the parameters, or just a few. It really depends on your campaign and what you want to do with that data afterwards.


1.  Source (utm_source)

This is how you identify the overall source of your traffic. Perhaps it's Facebook, Twitter or LinkedIn, or your website. Use source as a broad category for where your donor has come from, there might be a few ways donors can find you on Facebook but the source would be the same.

Example: utm_source=facebook

2. Medium (utm_medium)

Medium usually refers to how your donor found you, or more specifically, how they found the link to find you (whew, what a mouthful). For example, I might have a medium of "cpc" for all my paid ads on Facebook and LinkedIn, standing for cost-per-click. But for my social posts, I might set the medium to "organic". It's a subtle, but important difference.

Example: utm_medium=cpc, utm_medium=email

3. Campaign (utm_campaign)

Campaign refers to the specific marketing campaign you're running. This is a way for you to identify the exact email (was it my May newsletter?) or that this is your remarketing campaign for your existing donors. Create a document to track them if you use obscure terms (or just keep them simple).

Example: utm_campaign=eofy-campaign

4. Term (utm_term)

We're getting into optional territory now. You might not use term, but it can be handy. Term will help you identify which variation of content got someone to your site - which is super helpful for Search Ads tracking or analysing the effectiveness of a specific ad in your campaign!

Example: utm_term=fundraising-runs-near-me

5. Content (utm_content)

This code tracks exactly which link someone clicked on to find you (when there are multiple links going to the same destination). You might have an email and a landing page, both of which could have multiple identical links on the same page.

Example: utm_content=signupnow

Help! Where do I find this data?

Raisely already has UTM tracking in place, so you can automatically capture UTMs and other attribution data on donations and sign-ups. We include them in your reports and you can use them in your CRM.

Specifically, you can pull out:

UTM parameters
The visitor's browser or operating system
Referrer (the URL that sent them to your page - for example, Facebook or Google)
Page path (the specific page where your supporter donated or signed up).


You can also find UTM data in Google Analytics. Head to analytics.google.com » Acquisition » Campaigns » All Campaigns.

Please note the different Primary Dimensions you can select to really dig into this data. The Primary Dimensions include Campaign, Source, Medium, and Source / Medium.

From here you'll be able to understand which of your marketing efforts are getting the best results.

Before you know it, you'll be an expert in non profit analytics. Yes, you! 👏

The UTM starter kit: how to get going the right way

Once you've started using UTMs to understand your acquisition sources, you won't look back. But, you DO need a clear database to kick things off right. That's why we recommend these 3 simple steps to set good foundations:

Create an internal UTM guide (we recommend this template on Notion to save you precious time)
Test with a couple of links to see how it all works
Implement it throughout ALL your marketing efforts.


Hierarchy matters

We recommend first ordering the UTM parameters to group results - like this.


Be a rule follower

Then, list the most common sources and mediums. Once you've done that, you can create rules on how to name each of the parameters.

And, when it comes to parameters, keep these best practices in mind:

🔤 Use only lowercase words
➖ Use hyphens or underline to separate words
💨 Avoid long descriptions (be clear and concise)
Parameters in action

So. What do these parameters actually look like?

Here are a few you might use for your own fundraising campaigns.

Campaign

Rule: yyyy-mm-campaign-name

Example: 2021-12-eoy-appeal

Medium

Rule: medium-name

Examples: email, social-media, paid-ads, partners

Source

Rule: source-name

Examples: facebook, google, instagram, blog, website, qr-code

Content

Rule: short-description

Examples: campaign-launch, puppy-ad, last-5-days

Term (used especially for search ads)

Rule: keyword1-keyword2

Example: donate-for-kids, where-to-donate-this-christmas

And, if we laid it out in a table, it would look like this:

The UTM takeaways

We hope we've removed some of the complexity about UTMs (and yes, we're almost there).

But to summarise so far:

UTMs will help your donor acquisition strategy a LOT
They are easy for anyone to get their head around
They are a super effective way to hone into your donors' behaviour (Raisely's attribution tracking feature helps here, too)
There's one last step we want to tell you about. And it's…

Your own UTM generator

It's easy enough to manually type out your own UTM codes.

But you don't have to (big yay).

Simply duplicate and populate the Raisely template with your own UTM rules. Then, sit back and let the formulas do their thing.

Need a tracked link?

Just fill in the blanks and generate one. This will also help you keep on top of tracked links history.


---
How to bring it all to life

Well, that's a ton of information. But how can you turn them into actionable insights? What should you do with that?

Our #1 tip is: start grouping them into audiences, and investigate how each one performs on your campaign.

To guide your investigation, keep in mind that you might need to ask yourself some questions and think about some hypothesis.

Are your conversion rates different for different audiences?
What's the average donation for each audience?
How do they respond to upgrade asks? Do donors who come from your petition go on to be regular donors at a higher rate?
Was an email particularly effective? Why?

Last but not least: test and learn from it.

Donor acquisition is ultimately about building a rich and engaging donor experience, and to do that you need to measure it – but measuring it and knowing it, is really just the start. By testing, comparing and learning what works and what doesn't, you can start doing more of the first and least of the latter. And most importantly: optimise on everything.

If you want to build upon the info we've gone through here, your experts will help you unlock data-driven insights and optimise your marketing strategy for every fundraising campaign you roll out.

Ready to create your
next campaign?