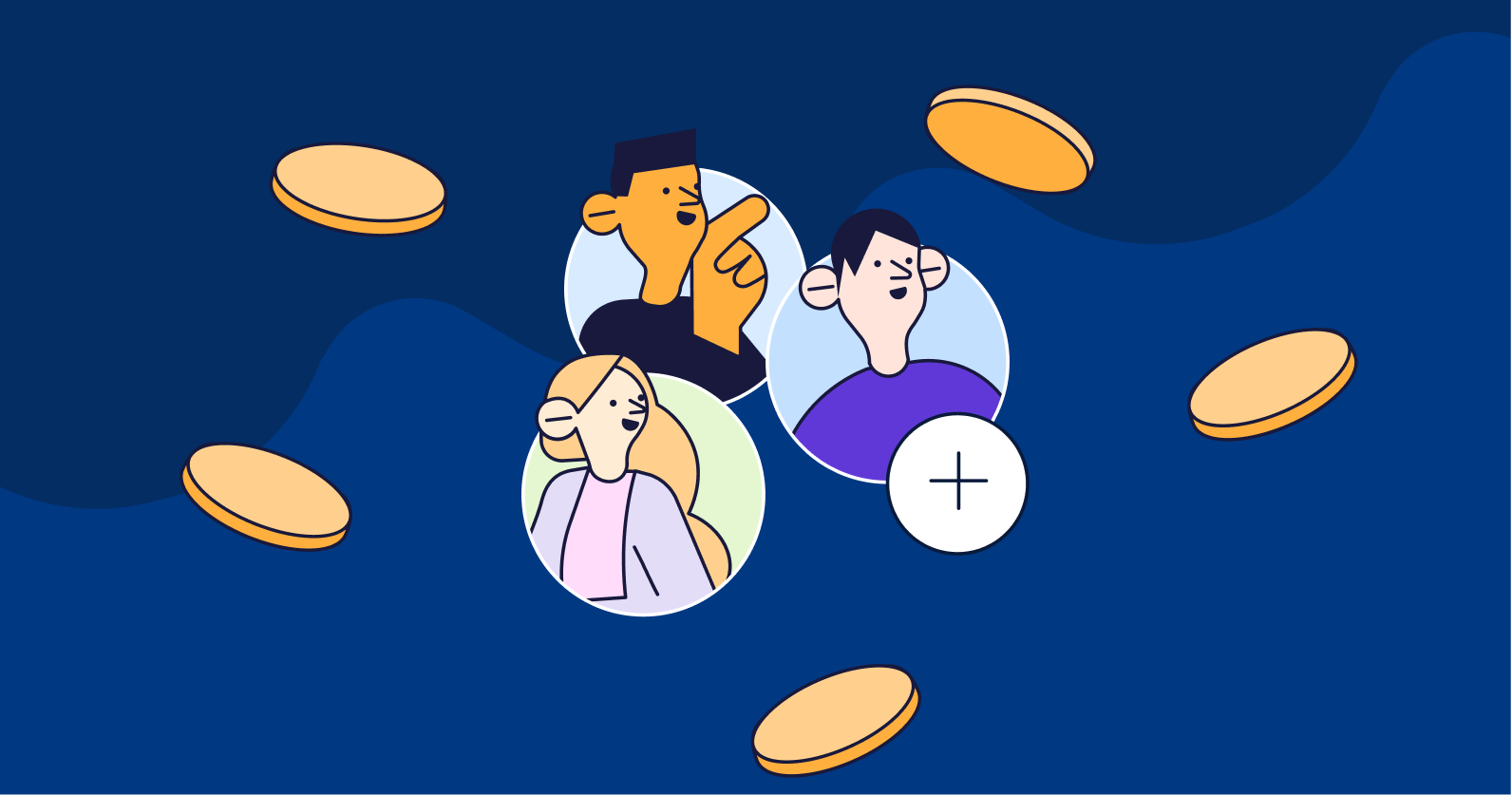 Guides
Donor acquisition strategies: The ultimate guide for charities
Ensure you have a top-notch donor acquisition strategy for your fundraising organisation by understanding the cycle and following these tips.
New donors are the lifeblood of any nonprofit organisation. Acquiring them is almost always more costly than retaining existing donors, so it's important to create an effective donor acquisition strategy that you can ramp up at key times. For example, when income from current donors is too low or when your organisation is getting extra attention that you want to convert into new donors.
Whenever you get a boost in traffic from things like press coverage or giving days, you'll want to be prepared to take advantage of it!
Donor acquisition looks a lot different than it did just a few years ago. Supporters have gravitated to mobile giving in a big way: 28% of Americans donated to campaigns via mobile in 2021, and in Australia, 65% of donors gave via mobile on the Raisely platform.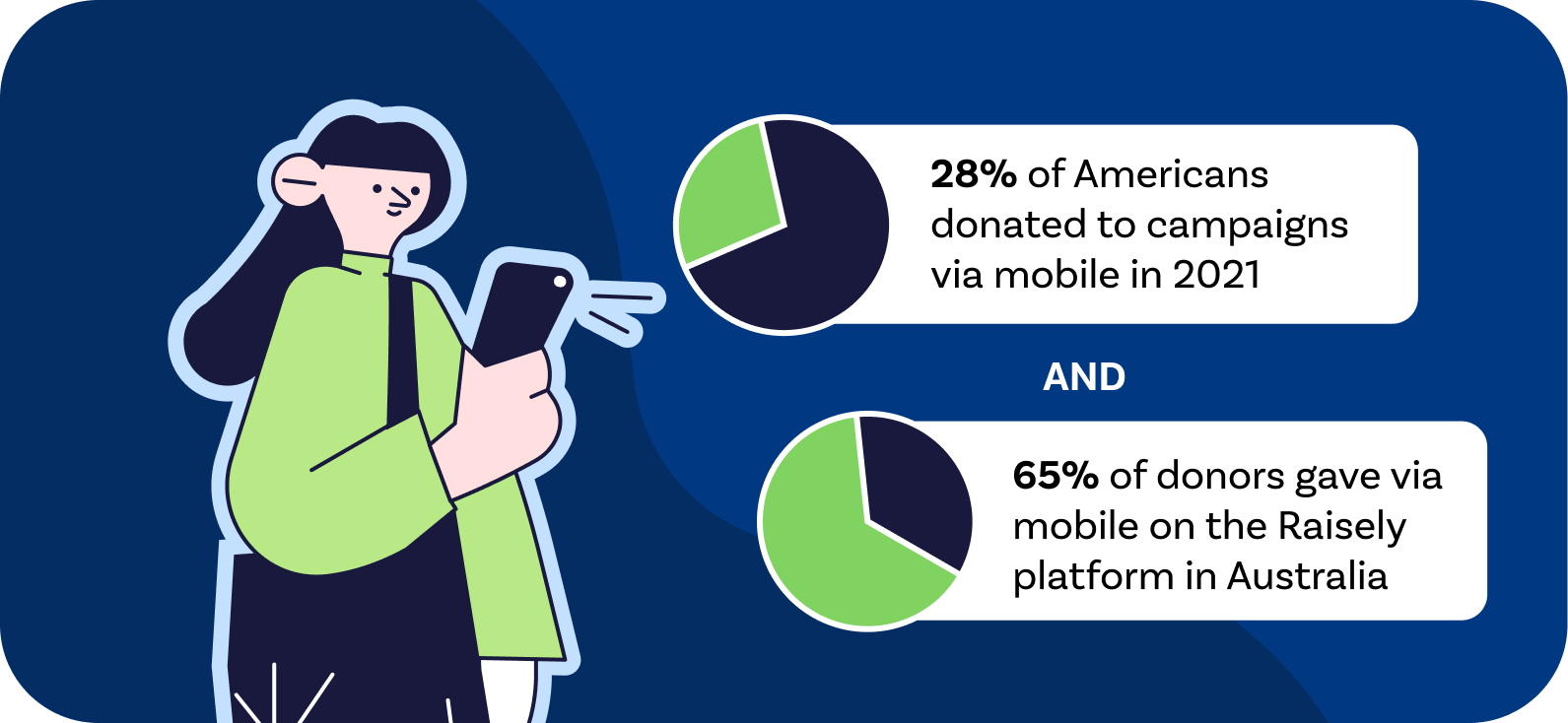 It can be challenging for nonprofits to keep up with new technology. But don't worry, we've got you covered! This article is your ultimate guide to donor acquisition in 2022.
Read on to get familiar with the nuts and bolts of this essential process and gain some insight into the best strategies for your organisation.
What's a Donor Acquisition Strategy?
New donor acquisition is the very first stage of your fundraising strategy, where potential donors find your organisation, get to know you, and ultimately decide to give. It's all about making a great first impression and planting the seeds for long and happy donor relationships. That's why this part of your strategy should be donor-focused and purpose-driven.
In order to manage your nonprofit's finances effectively and keep growing at a sustainable pace, you should set realistic goals for the number of new supporters you need per month. It's important to measure the cost of donor acquisition, the average revenue per donor, and the average donation amount so you know how much you'll need to spend in order to meet your fundraising goals.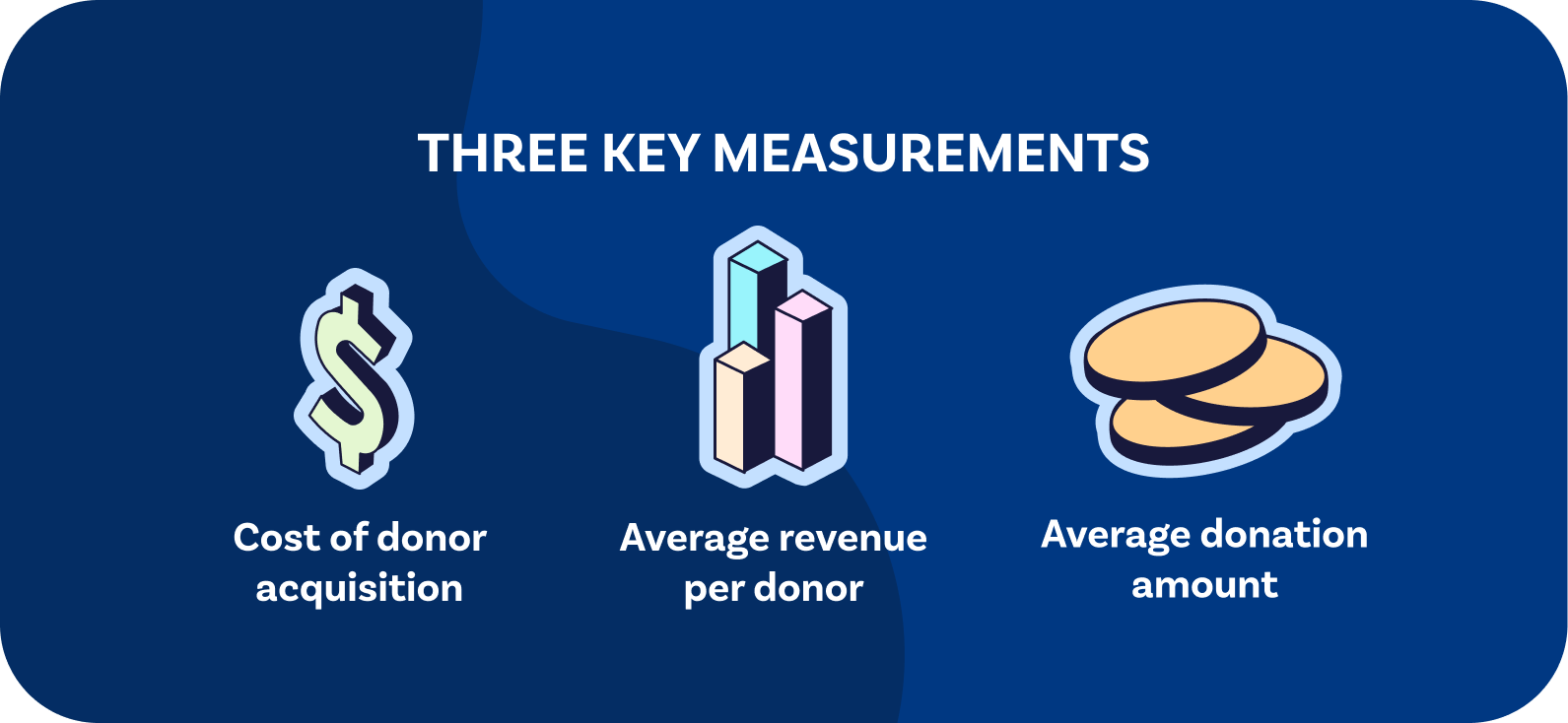 Understanding how each piece of your donor acquisition strategy works and measuring it accurately will help you stay in tune with what's working so you can adjust your approach as you go.
The Donor Acquisition Cycle
There are three phases in this process: attract, engage, and convert. Your strategy for each step may combine several digital and traditional marketing tools including SEO, social media, email, and direct mail. (Yes, snail mail is still surprisingly effective in 2022!)
Let's take a closer look at how specific tools support each step in the process.
Attract
Before you can attract new donors, you need to know exactly who you're looking for — in today's busy environment, an effective donor acquisition strategy is a highly targeted one.
Interview a few of your best donors and review any data you have to create a model or persona of your ideal donor. This will help with targeting ads and writing copy that speaks to the things they care about.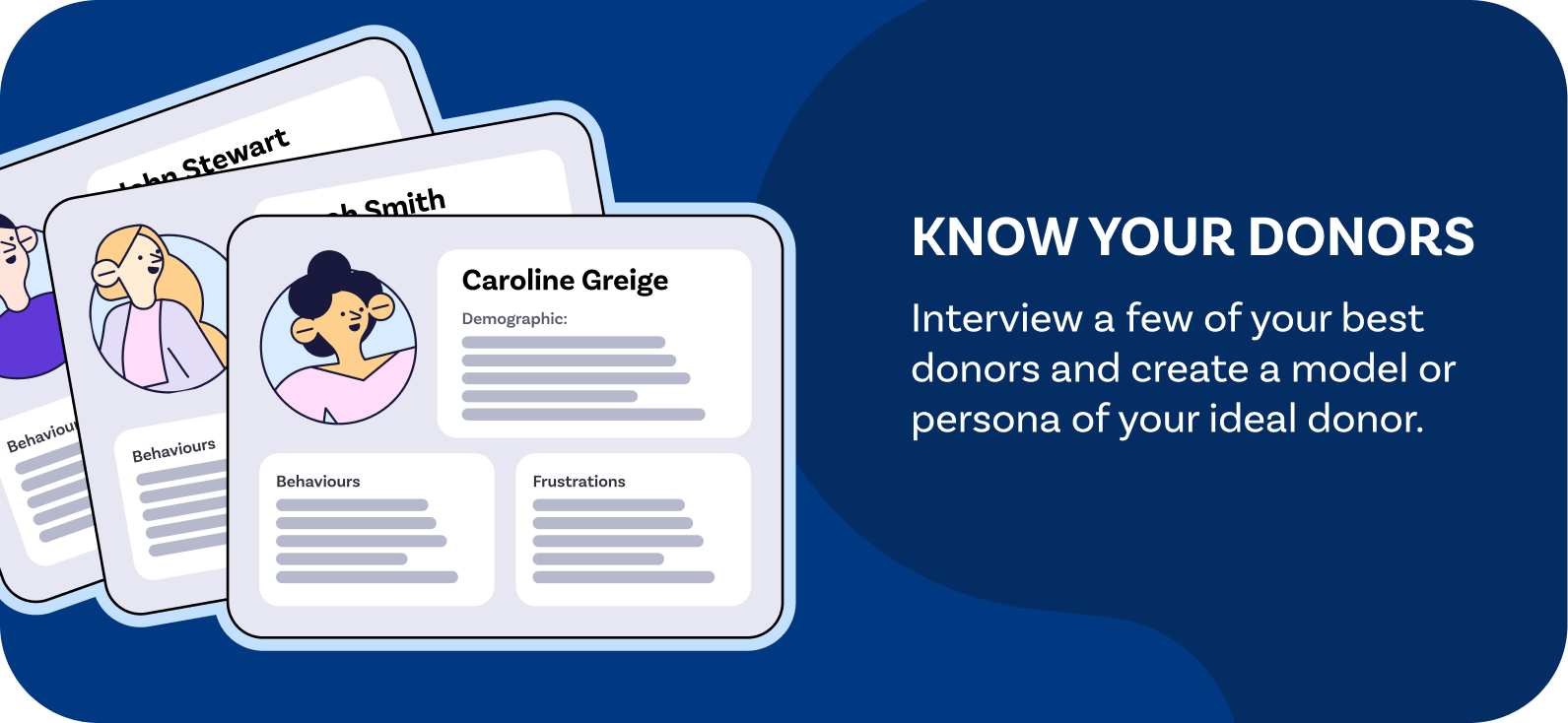 Once you've zeroed in on your audience, you might use influencers and ambassadors to build hype and spread the word. You might also use more traditional PR efforts if possible, such as a news article to raise more awareness and gain credibility.
Use calls to action on your website and social media to attract people who will donate directly. Collect their information through your donation form, such as their name, email, and phone number, so you can continue communicating with them.
⌨️ SEO
Organic search engine optimization (SEO) ensures people can find your organisation through platforms like Google and Bing. The idea is that the information on your website should match your ideal donor's search intent for topics related to your mission.
Local SEO is important for small organisations, and for bigger organisations, it might be more important to outrank competitors in your category. Building domain authority takes time, so this isn't a quick fix.
#️⃣ Social Media
Social media creates opportunities for potential donors to learn about your nonprofit and become "fans." Each time one of your posts shows up in a follower's timeline, they feel more familiar with your organisation and get just a bit closer to making a donation.
Participating on giving days like GivingTuesday, using a targeted hashtag strategy, and engaging with other people's posts are all effective ways to kick off the donor acquisition process.
In fact, we've just launched a new Facebook Fundraisers integration that creates a two-way sync in real-time between Facebook and your peer-to-peer campaign on Raisely. Acquire new supporters, encourage them to ask for donations, and make it easier for their friends and family to give — all within Facebook's environment.
Plus, leverage Raisely's all-in-one fundraising platform to track your performance, collect supporters' data, and engage with your community through powerful marketing automation. Keep an eye out for an announcement coming soon!
💸 Paid Ads
This is one place where the research you did to define donor personas will really come in handy. Paid ads get your nonprofit in front of new people, expanding your audience.
Most ad platforms for both search engines and social media offer sophisticated targeting options, and the more you tailor to the specific audience you want to reach, the better. You'll get a higher ROI on paid ads, and those new donors will be much more likely to stick around.
📱 QR Codes
For the growing crowd of people who prefer to do their giving via mobile, QR codes make it super easy to connect with you. You can add them to your print ads, marketing materials, and event signage to inspire action. Direct them to a donation page, a sign-up form for your email list, or the landing page for a peer-to-peer campaign.
Ready to create your
next campaign?
Engage
In the engagement step of the donor acquisition cycle, you're mainly looking to establish rapport with new audience members and educate them about your cause or your mission. Using the information you gathered during the Attract step, segment and personalise engagement messages so each one speaks directly to potential donors.
First, thank them for joining you and tell them more about your organisation, your cause, or your mission. Then in follow-up journeys, share facts and figures that illustrate your impact as well as personal stories of the charity's beneficiaries. Inspire them to sign up for a campaign, donate, or do both!
📪 Direct Mail
Just because snail mail is a low-tech option, that doesn't mean it can't be effective or appealing. A nicely made card or a glossy brochure can make an unexpected and welcome first impression, and sending a small gift like a sticker or a magnet can add extra staying power.
Direct mail works especially well with older donors who have the disposable income to make large donations. There are a few ways to collect addresses for direct mailings. Add an address field to donation forms or event sign-ups and start by sending a thank-you. Or create a small gift or publication that people can request through a sign-up form. Don't forget to collect phone numbers for fans of direct mail so you can call them and see if they can give more.
📧 Email
Remember that many of the subscribers on your email list aren't yet donors. Email marketing software can help you segment your email list based on characteristics like where you acquired them, donor status (potential vs. current), gift amount, frequency of giving, types of engagement, and more. Keep donor acquisition in mind when you're writing your newsletter, too.
Pro tip: Don't use the call to action "sign up for our email newsletter" on your website. Most people don't want to add more subscriptions to their already crowded inboxes. Offer something valuable like a free downloadable guide instead. Ask your staff to include this link in their email footers and add a checkbox to your contact form so people can sign up to receive emails there too.
Other ways to build your email list might include asking people to sign petitions, hosting events, and creating ads on social platforms that direct people to sign up for your free download.
📅 Fundraising Events
Holding virtual, hybrid, or in-person fundraising events can be a memorable way to build relationships with potential and first-time donors. Don't forget to collect email addresses at sign-up and send a thank-you email with more ways they can get involved. Take lots of photos during events to use in future marketing materials and share on social media.
Stay in the loop. Delivered to your inbox twice a month.
Convert
Once you've attracted some new fans and built your relationship with them, it's time for an ask! The last step in the donor acquisition cycle is converting your audience into donors, volunteers, and fundraisers.
Maximise conversion by giving your audience lots of options for getting involved and supporting your cause. Volunteering opportunities, donating, or signing up to host a fundraiser for a peer-to-peer campaign are all different asks to make at this stage.
As you set up points of conversion across your website, campaign pages, and other platforms, it's critical to put conversion tracking tools in place.
If you can measure which traffic sources, campaigns, and conversion points are performing best, you'll know where to focus your efforts and make adjustments for better results. Conversion tracking can also help you determine your cost of acquisition so you can estimate how much to spend in different situations. (More on this later!)
Retargeting
🎯 Getting people to your website just once takes a lot of effort. Not everyone will convert on the first visit, so you also need strategies to keep them coming back.
Retargeting is when you use website data to create ads that people will see on social media and other websites like Google, Gmail, and YouTube after they've visited your site. This strategy is effective because it doesn't require site visitors to opt in or enter any information. The technology on the back end of your website does all the work!
🗣 Peer-to-Peer Fundraising
Peer-to-peer (P2P) fundraising turns supporters into volunteer fundraisers who take on some of the work of growing your donor base. Instead of marketing to potential donors, you focus the campaign on attracting volunteer fundraisers. A P2P campaign can work side-by-side with the other donor acquisition strategies we've described here.
It's important to plan two distinct experiences for the supporter journey your fundraisers will take and the donation process new donors will follow. Once donors are converted, continue strengthening these relationships to boost donor retention and attract more regular givers.
Let's Calculate Your Donor Acquisition Cost
Measuring how much it costs for your organisation to reach new donors will help you figure out your donor acquisition ROI and how much to budget for these efforts.
To calculate your average donor acquisition cost (DAC), add up the total amount you spent on donor acquisition during a specific period of time and divide that by the number of donors you acquired.
Here's what the formula looks like: Total costs ÷ acquired donors = DAC
For example: $300 spent over 3 months ÷ 275 new donors = $1.09 spent per new donor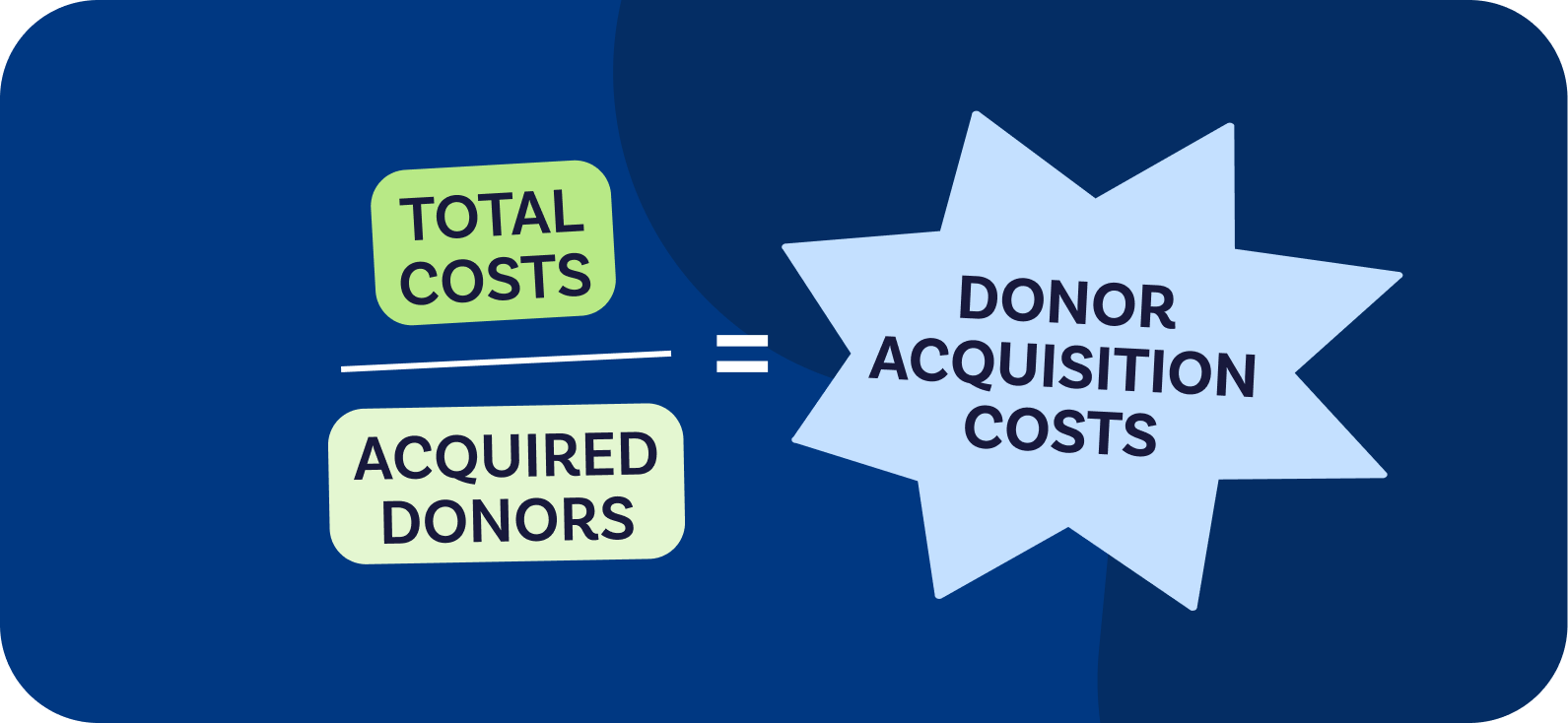 You'll find that every donor acquisition method has its own unique cost. More expensive channels like social media ads and direct mail tend to be less time-consuming and labour-intensive than cheaper methods like organic social media engagement and email outreach.
Compare two donor acquisition strategies by calculating the DAC for both and see which one is more cost-effective. Try also calculating your average DAC now to see what your baseline is. Check again after you've set up a new donor acquisition process to see if it's more efficient.
The Balancing Act: Maximising Your Donor Acquisition ROI
Acquiring new donors is almost always more expensive than increasing donation amounts and frequency from current donors. But there'll naturally be some attrition and lapsed donors, so it's important to keep a constant flow of new supporters trickling into your community. A strong donor acquisition strategy is good for donor retention and vice-versa.
To really understand the return on investment or ROI of your donor acquisition strategy, you can calculate the lifetime value (LTV) of your donors and compare it to the cost of donor acquisition. LTV is the average amount an individual donor is likely to give throughout their relationship with your nonprofit.
Here's how to calculate lifetime value: First, you'll need to determine the average donation frequency, or the number of times most donors give over a certain period of time. Let's look at things on a yearly basis to keep it simple.
Number of donations ÷ number of donors = frequency of donation
Donor lifespan x Average donation amount x frequency of donations = LTV
For example: 270 donations in one year ÷ 108 donors = about 2.5 donations per donor per year
If most donors stick around for 3 years and the average donation amount is $175, then:
3 years x $175 average donation x 2.5 donations = LTV of $1,312.50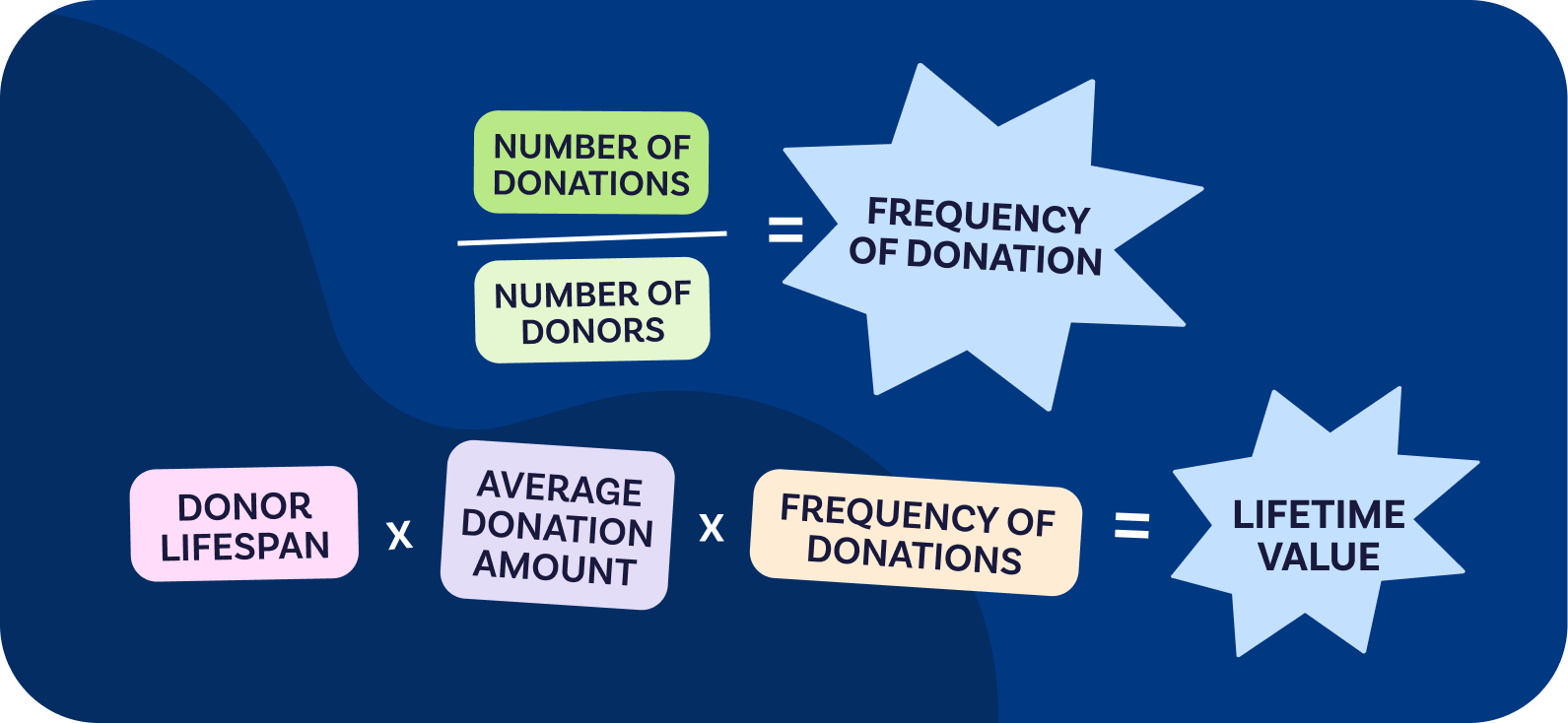 To maximise the lifetime value of donors, they need both a great first impression of your organisation (a killer donor acquisition process) and continued positive engagements, known as stewardship or donor retention.
As you optimise and refine both parts of your strategy, you should notice your DAC decreasing in relation to your donors' lifetime value.
Donor Acquisition Step by Step
The donor acquisition cycle itself consists of awareness, relationship building, and the moment of conversion. The rest of the journey includes onboarding, donor retention or maintaining donor relationships, and re-engaging lapsed donors.
As you might guess, it takes some legwork to create an effective donor acquisition strategy from scratch and set it in motion. Let's go through the steps together.
1. Find Your Supporters and Understand Them
Who's interested in supporting your cause with financial gifts? Your first step is to define the demographics of your target audience and create a donor persona like the one we discussed in the Attract step.
Where do these prospective donors hang out? What do they care about? What do they have in common? How else do they want to support you? The more specific and granular you get, the more you can fine-tune your strategy.
2. Review What's Working
You likely have some data in your CRM, email software, and other marketing tools that can clue you into what's already working. Some questions to consider:
Who are your major donors?
How do they find you?
What donation amounts are the most popular?
Which donors have the highest lifetime value? (See, those formulas are already coming in handy!)
When do most people give (both in relation to other life events and in terms of the calendar year)?
For some of these metrics, you'll have to set up additional analytics to start collecting data.
For example, every time you share a link to your donation page or email sign-up form, you can use urchin tracking modules (UTMs) to track which links are clicked the most.
Create UTMs for each traffic source, campaign, medium (e.g. organic vs. paid), search term, or individual link. And the best part? UTM tracking is included in your free Raisely account!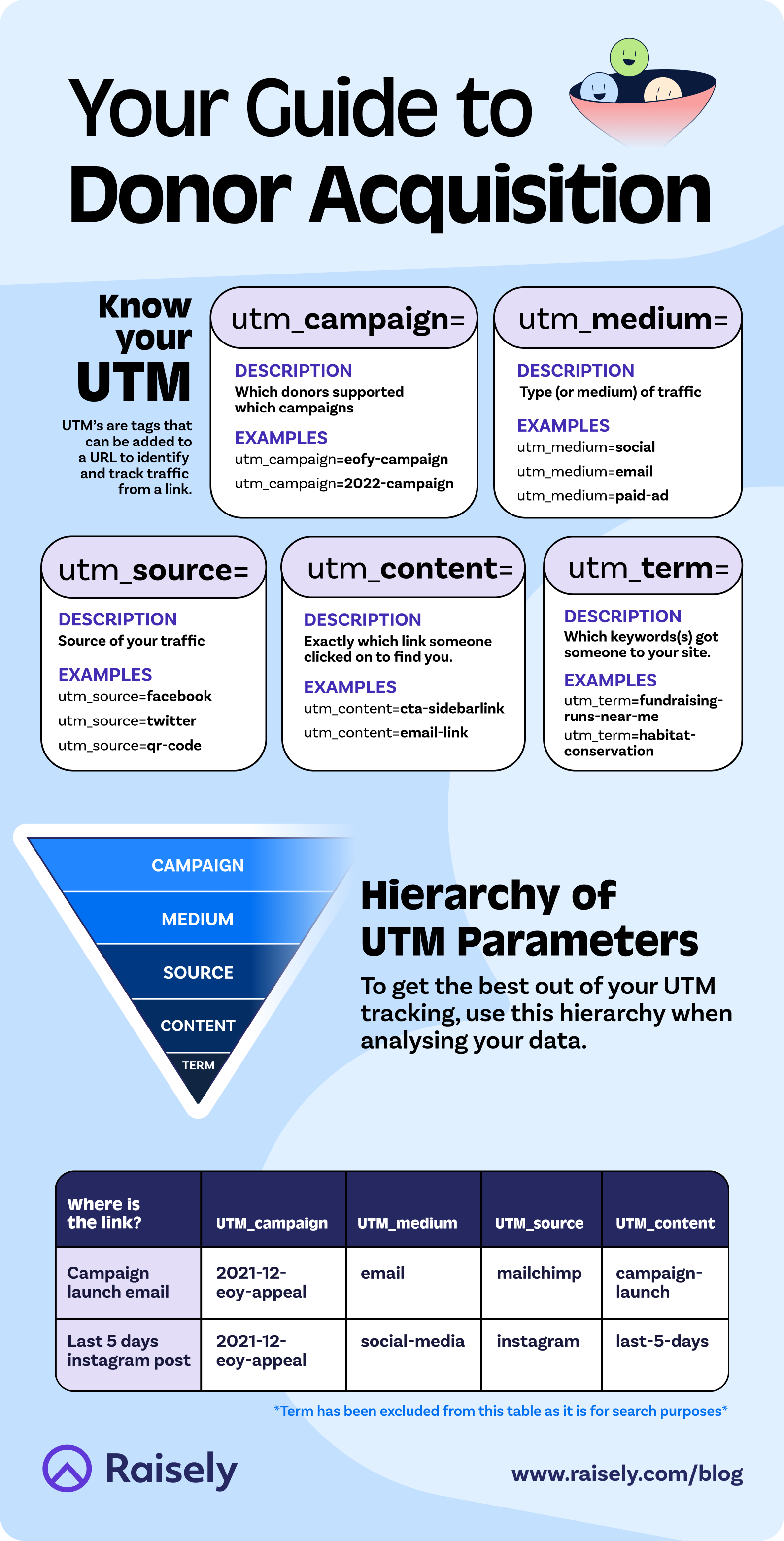 3. Work Backward to Plan Your Donor Acquisition Strategy
You'll want to make sure there's a clear path from a prospective donor's very first interaction with your nonprofit to the beginning of the donation process.
With only a couple of main conversion points or calls to action, it makes sense to determine how these will work and move backward step by step to create different user journeys. Determine what messages you'll need to send at each step in the journey, what actions you want your supporters to take, and what information you can collect from them.
Don't forget to make sure new supporters are added to your donor database at conversion!
4. Build Your Conversion Machine
Again, start with the final destination (your donation page and thank-you email), then work backwards to ensure you have all the links you need for preceding steps. Once you have this foundational piece in place, you can set up your UTMs and start sharing.
Add the landing page to your website, social media profile pages, and other places where people will always be able to find it.
Next, set up any additional automated emails, SMS messages, or ads that will run behind the scenes to connect each step in the donor acquisition journey. For instance, you might create a short email series for people who sign up for your newsletter that tells your story and includes several calls to action.
On your donation page itself and at each step leading up to it, finish strong with a clear call to action. You may include asks to donate throughout the entire user journey, but stack them a bit more toward the end.
The donate button is the most important call to action of them all. Test different wording like "donate now," "I'm in," and "let's do it" to see what gets more clicks.
5. Launch an Awareness Campaign
Get your gears moving with a marketing campaign that brings attention to your cause and shows your audience how you're helping to solve a problem.
In addition to asking for donations, it's important at this early stage to include calls to action asking people to follow you and opt into your email list so they'll see more of your messages. If you have lots of automated messages set up, it's quite exciting to see them all start firing and bringing in new donors once you start your first big campaign.
6. Measure and Tweak to Keep the Wheels Turning
Test everything about your donor acquisition journey, from different channels to images and specific wording, to see what works.
Along with your donor acquisition rate, identify KPIs that show how well different parts of your donor acquisition machine are working. For instance, email subscriptions and clicks or social media engagement metrics might be important KPIs to monitor.
If certain parts of your strategy are lagging, determine which dials you can turn up to get them moving again. When you see great results, double down by spending a bit more on ads to maximise your success.
---
Build Your Donor Acquisition Strategy With Raisely
Every nonprofit needs a unique donor acquisition strategy to keep connecting with people who have the potential to turn into loyal long-time donors. There's a lot to consider when you're creating a brand new strategy, but remember that it's really a two-way conversation. Getting a pulse on your prospective donors' perceptions and attitudes and measuring their activity are just as important as creating your outgoing communications.
We've worked hard to equip Raisely with all of the marketing and analytics tools today's nonprofits need to build lasting donor relationships in a mobile-first world. Our all-in-one fundraising platform has a built-in CRM, donor management functions, and reporting suite to help you manage donor acquisition down to the last detail. Sign up for your free account and check it out today.
Ready to create your
next campaign?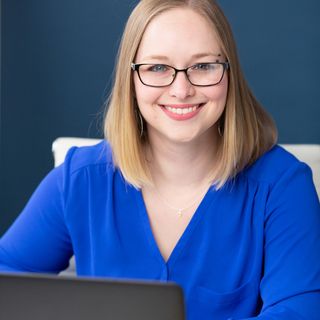 Kelsey Hoff is a content marketing specialist, freelance writer, blogger, and poet. She creates emotionally intelligent content that "listens first" for effective, ethical thought leadership.